Holiday footage of Sydney, Brisbane and Melbourne in the 1940s has been unsurfaced at a garage sale in San Jose, California.
The incredible footage of war-time Australia is thought to have been filmed between November 1939 and February 1940, as estimated by Californian historians Tim Peddy and Rick Helin who found the reels.
"This was based upon apples being harvested in Tasmania, the date of a Matsonia passage from Sydney to Auckland carrying the future first lady of Australia viewed on deck in the films, and confirmed based upon the ships manifesting from February 1940," Helin told The Huffington Post Australia.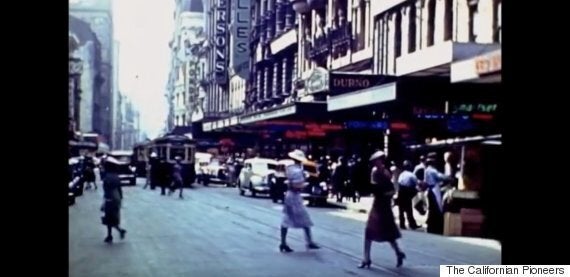 A still from the footage of 1940s Sydney. The team also restored footage of Brisbane and Melbourne taken around the same time.
Helin and Peddy from The California Pioneers in Santa Clara County restored the old footage which was part of a larger collection of around 17 reels.
"I passed on them initially, but Tim went back three days later and noticed they were still among the last items remaining to be sold," Helin said.
"He then picked them up for $20USD just on a lark, believing as I did, that they were probably worthless geography films for educational purposes and mass produced. They obviously weren't.
"In fact, they are quite remarkable -- not only the Australian films, but the Hawaiian films as well. New Zealand, Solomon Islands, Mexico, Central America, and South American films are also included in the collection."
Not much is known about the photographer but it is understood the footage was taken by a man travelling with his wife, likely aged in their 50s.
"We still have no idea who the photographer was, but we can surmise he was someone of great importance and access to enough money to travel extensively at this time of his life," Helin said.
"In addition, only the wealthy could afford such a quality 16mm movie camera at this moment in time, but more importantly, it was very expensive to purchase film and to process these reels into a final product to be projected on screen."
The California Pioneers of Santa Clara County was founded in 1875 and comprises a team of historians who are working to preserve, collect and educate on history.
To see more historic footage from the team, head over here.
If you have a short film, web series, documentary or any other interesting video stories you would like featured on HuffPost Australia, email emily.verdouw@huffingtonpost.com.au