Pinterest
Telstra has been slammed in response to its attempt at sarcasm after a mother complained about her lack of internet connection.
National newsroom manager at Nova and SmoothFM, Michelle Stephenson, tweeted Telstra about fixing her Foxtel and broadband connection.
A Telstra social media manager tweeted back suggesting Stephenson show her child "the outside world" when the internet isn't working.
@MishStephenson Heya Michelle, I can appreciate that, I usually show my kid the outside world when there's no internet, it's tricky.. -Renee

— Telstra (@Telstra) March 9, 2016
Twitter users quickly lashed back at Telstra, slamming the company's response.
@Telstra @SallyRMelb @MishStephenson What a patronising response. Fail.

— Caitlin Fitzsimmons (@niltiac) March 9, 2016
@MishStephenson @Telstra Oooof. Bad attempt at humour from Telstra...

— Lucy Thackray (@LucyThack) March 9, 2016
A Telstra spokesman told news.com.au the tweet was an inappropriate way to handle Stephenson's question.
"The interaction with Ms Stephenson was an attempt by our team member to empathise with her whilst trying to assist with her enquiry," he said.
"We apologise for this and we will continue to provide coaching to our 24x7 team in Adelaide on how they interact with our customers, who are our number one priority. For the most part, our 24x7 team in Adelaide do a great job in handling thousands of customer enquiries each day."
In the rise of the digital age, several companies have made the headlines with their customer service dealings via social media.
Last year, Woolworths took part in a rap battle with a customer who posted on its Facebook page. The reply reaped nearly 95,000 Likes at the time of publication.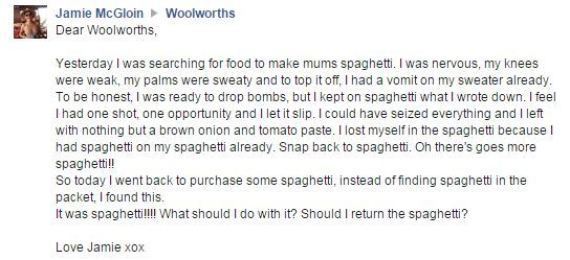 And how can we not forget 'Dan' from Optus who took on a series of complaints about Optus ads in a Sydney shopping centre, written in Arabic.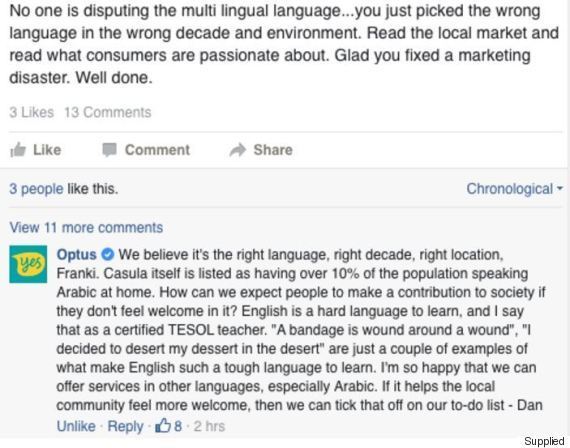 Telstra -- looks like this attempt at social media customer service banter totally backfired.