It's undeniable -- everyone loves a good dumpling, especially when they're as good as this.
"I think Australians have always had a love affair with dumplings because we all grew up on Chinese food, a result of being fortunate enough to live in such a multicultural society," Dan Hong, executive chef at Mr Wong, told The Huffington Post Australia.
It's true, many of us have fond memories of going to Yum Cha (which translates to 'drink tea') with the family, and the dumpling obsession is only growing.
"I mean, how could you not love dumplings? They're one bite of deliciousness," Hong said.
Sydney's Mr. Wong restaurant is a dumpling force to be reckoned with -- the two-hatted contemporary Cantonese-style restaurant has earned a string of awards, including being named The Australian Financial Review's Top 10 Restaurants of Australia in 2015. Mr Wong has also been visited by none other than Oprah, Kim Kardashian and Kanye.
And there's good reason for the restaurant's global popularity: Mr Wong creates unrivalled dim sum. On an average day, the popular restaurant sells around 2,000 dumplings to keen lunch-goers and dinner guests.
"It gets busy as soon as we open our doors," Hong said. "On Friday lunch, there's a line starting to form outside at 11:45am. It's crazy."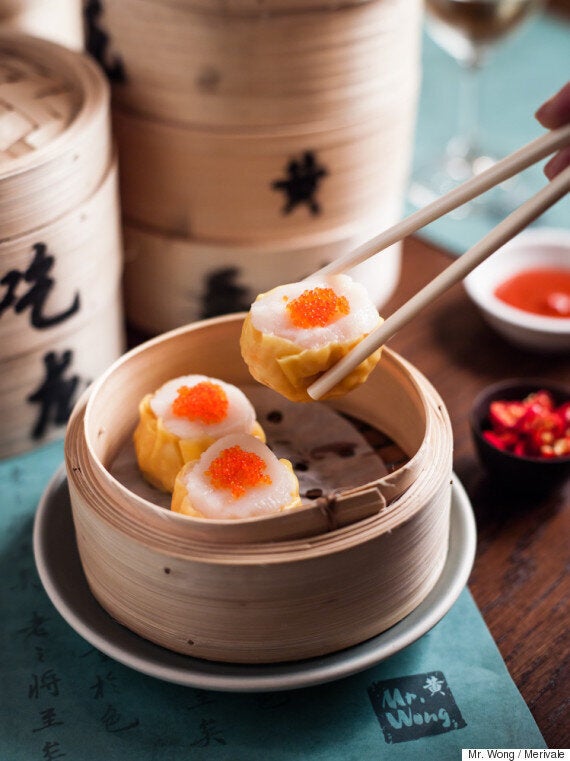 What makes a perfect dumpling, you ask?
"There's certain factors that make a good dumpling," Hong said. "Number one is the filling -- it's got to be made from really good quality ingredients.
"The consistency can't be too smooth, otherwise you don't get a nice texture. It's very important that you know you're biting into a piece of chicken or prawn.
"Secondly is the craftsmanship of the actual dumpling -- how thin the wrapper is when they make it and that the wrapper stays together when you're eating it," Hong said. "There's nothing worse than trying to pick up a dumpling and the whole wrapper comes off and you leave the filling in the basket."
Another factor that makes or breaks a dumpling is the correct cooking time.
"They can't be overcooked because once they're overcooked, the wrapper just goes soft and they become difficult to eat," Hong said.
Freshness is also key to soft, tasty dumplings.
"All the dumplings are made fresh every day -- nothing is kept overnight," Hong said.
"Aside from the wonton wrappers, all the dumplings -- the dough, pastry, the filling -- are all made here."
Mr. Wong's most popular dumplings are the Har Gow (white prawn) and scallop Shu Mai, a modern twist on the classic pork and prawn Shu Mai.
"There's also Xiao Long Bao -- Shanghainese soup dumplings -- which everyone is obsessed with these days," Hong said.