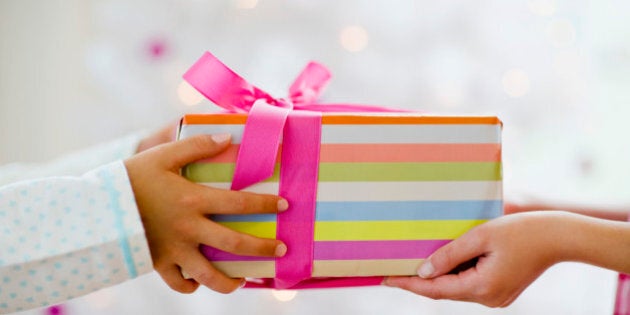 When life gets expensive many of us refrain from not only spending money on ourselves but we stop spending money on our loved ones too. But there are ways to give to others without breaking your budget.
Regardless of your financial circumstances, it's important people still feel like they're a 'giving person' -- after all it's not the amount of cash spent on a gift, it's all about the love and happiness you bring.
Clayton Howes, CEO of digital consumer finance firm MoneyMe told The Huffington Post Australia people should think about using 'labour credits' instead of material gifts.
"There's something special about giving your time and talents to someone you care about. Labour credits are exceptional. Mowing the lawn for your elderly grandparents, or babysitting your best friend's child so they can take a break are invaluable gifts. Time -- you can never get it back! Giving up your time to help someone else is the most noble gift you could ever give," Howes said.
"Even if you are down to your last $10 and need to buy a gift, there are so many things you can do. Buy a really nice birthday card, and spend some time writing a thoughtful letter. You can include fond memories, inside jokes, and mention why you value their friendship. Your friend will treasure this gift for years to come. Shout your friend coffee and a slice of their favourite cake. Spending quality time together will do the trick. Put together a collage of the weirdest and wackiest photos of you two together. Wrap it up and enjoy your friend's reaction when he/she opens it!"
Car washing: A decent car detail with vacuuming and polishing can be pricey, so this is a nice gift for car owners. You could even get a small loan to buy supplies, and charge out your services over the rest of the holidays.
Gardening: A great one for elderly relatives who struggle in the summer heat, give them a few lawn mowing and weeding tokens.
Babysitting: Parents with young kids will consider this one golden: with babysitters charging upwards of20 per hour, it's also a valuable gift.
Cooking: If you're any good in the kitchen, offer a gourmet meal voucher for in-home dining and play chef for the night.
IT: Giving family computers a service and upgrading software and security is helpful for tech-phobic relatives.
If you're creative, some artwork (painting or digital) is a very original and personal gift. If you don't draw, try printing off and framing some of your best Instagram pictures. Or print out poems or lyrics in interesting fonts and colours and frame them.
Fashionistas: You can make tie-dye festival t-shirts: all you need is an old white or pale t-shirt, some fabric dye and some string.
Performers: Musicians can write and record a song on YouTube. Even if you've been rejected by The Voice your relatives probably love your singing!
Digital gurus: If you've got video production skills, scan some old family photographs and make a video montage from them. Your older relatives probably have albums full of old pics that no one ever looks at any more.
Masterchefs: If you've been watching MKR and brushing up your chef skills, try putting them into action make an impression that will last. There's nothing quite like having a private chef cook up something special for you in your own home.
Romantics: Self-made candles are such a cool gift -- this is the cheats' way: melt down old stubs, drop in some scented oil, and add some string to make a new wick. Set them in old jars or teacups for the retro finishing touch.