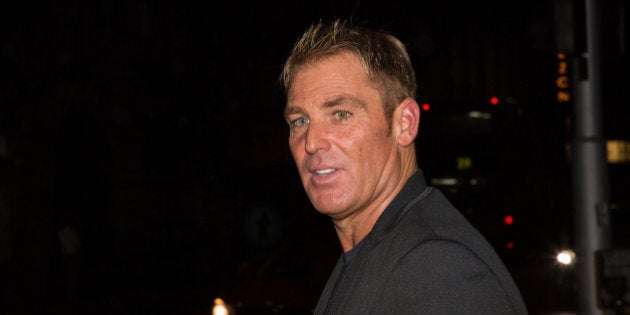 An independent audit into the embattled Shane Warne Foundation has concluded that "fraud, error or non-compliance" may have occurred at the charity but could not be detected following claims of financial impropriety at the organisation.
The KPMG report, published by Fairfax Media, comes after concerns were raised over potential financial mismanagement at the cricket legend's personal charity prompting a review by the Victorian consumer watchdog.
"Because of the inherent limitations in evidence gathering procedures and limitations in the responsible party's internal control framework, it is possible that fraud, error or non-compliance may occur and not be detected," the KPMG report said.
"An audit is not designed to detect all instances of non-compliance with the Act."
The report was unable to "express an opinion" about whether cash donations were "completely recorded" for the periods audited by the accounting firm.
But it concluded that the Foundation complied "in all material aspects" with the law.
"I have been in Guantanamo Bay, Cuba, in isolation for six weeks so I have no idea what is going on there at the moment. I have done 13 hours of PR straight," said an irritated Warnie who went on to talk about the difference the charity has made to children's lives.
"If people want to have a crack at us for raising money and making a difference, go ahead. We have nothing to hide. We welcome any audit," he said.
"It is disappointing that people want to come after some good people that have raised money and made a serious difference to underprivileged children.
"You can get stuffed if you want to have a go at us but we are very, very proud of what we have been able to achieve."
Warne has previously said the charity, which started in 2004, raised almost $8 million of which it had given away $3.6 million. He said more than 125 charities had benefited from the foundation's activities.
Earlier this year, he announced the charity would close in 2016.
Consumer Affairs Victoria (CAV) initiated the audit following a failure by the charity to submit important financial documents by a deadline in late 2015, News Corp Australia has reported.
In January, Warne posted a spirited defence of the charity on his Facebook page.
"It's a real shame that certain journalists are continuing this ridiculous crusade / personal vendetta against the foundation and I can't understand why," he said.
"We have saved children's lives and without our support would not be on this planet."