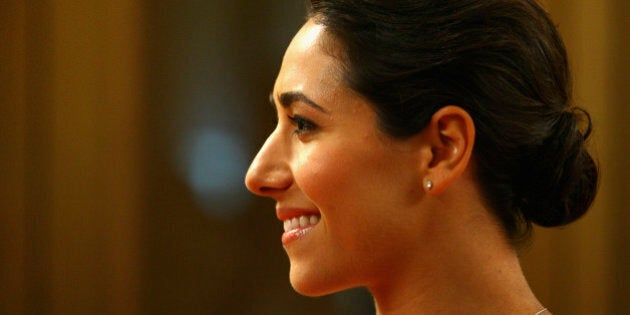 There is one sport, and only one sport, in which Australian women have won more Olympic gold medals than the female athletes of any other country. Care to guess which sport?
We'll put you out of your misery. It's aerial skiing, the Winter Olympics event which combines the acrobatics of gymnastics with the thrills and spills of ski jumping. Our most recent female medalist in said sport is Lydia Lassila. Her story is so remarkable, they've just made a movie about her called "The Will To Fly" which starts screening around Australia this weekend.
Here's the trailer. Warning: it will make you want to see it.
Lydia Lassila is an amazing woman. She didn't quite make it as a gymnast but was co-opted into Australia's aerial skiing program.
She couldn't ski but pffft, that was a small matter. She could learn. So she did -- up at Mt Buller, three hours from her home town of Melbourne. And pretty soon, Lydia was pushing people around and telling them how to do aerial skiing
There's a great scene in the movie where Lydia gives four-time World Cup winner Jacqui Cooper some advice. To be fair, Lydia's acrobatic skills were superior. But still, you don't do that. But that's Lydia. A little cheeky, a little bold, a whole bunch of admirable.
All athletes in this highly dangerous sport incur injuries. One of Lydia's worst came at the Torino 2006 Olympics where she was one of the favourites, but fell, and snapped her anterior cruciate ligament. If you go watch her movie, you'll hear those blood-curdling screams for yourself. For a few moments, you'll think you've mistakenly walked into Saw.
So anyway, there we were in a cafe with Lydia last week, having an almond, honey and tumeric latte -- which tasted a lot better than it sounds -- and one of the first things we wanted to know was how much that Torino tumble really hurt.
"I feel the pain of it, not the pain of the injury but the pain of the loss of opportunity, the pain of the failure. That's what hurt me," she recalled.
That's Lydia in a nutshell. She wants what she wants, she works incredibly hard to get it and she expects to reap the rewards. Ironically, that mindset was once her weakness.
"After Torino I needed help," she said.
"Definitely needed help and I searched for it. I came to a point where the pain of the setbacks and the injury were more than the pleasure of the small successes I was having. I wanted to be the best but I didn't have a plan on how to get there."
That all changed when Lydia started working with the sports psychologist Jeffrey Hodges.
"I told him 'I'm always injured, I'm always number two. Why is this always happening to me?' and he said 'nothing just happens Lydia, everything is the product of you and your thoughts and your consistent behaviours', and so we worked really hard on breaking my behaviours down and breaking my thought patterns down."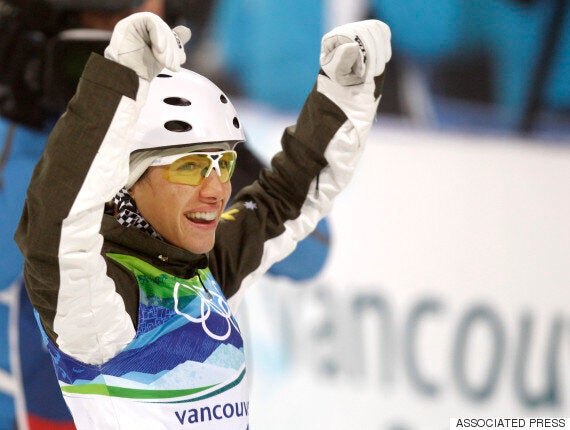 And then, because she's a really driven person, she wanted more. Between Vancouver and Sochi, Lydia had a son, Kai, with her Finnish husband Lauri. At Sochi, she could have jumped for gold in the conventional way. But Lydia wanted more. What more could there be? As Lydia explains in The Will To Fly, plenty:
"Winning an Olympics was always important to me but going for greatness in a sport and doing something no one had done was more important."
The thing no one had done was land a triple somersault with four twists. It's an insane manoeuvre that looks like someone threw a rag doll off a six storey building. And then you have to land the jump. The blokes had been nailing this trick for years. But no woman had ever tried it. Up stepped Lydia in the Sochi final. The announcers could barely believe the data on their monitors. Was she really going to try this thing? Was she mad?
Yes, and no. Lydia had never been so serious in her life.
Lydia did her jump. She was perfect in the air but kind of fluffed the landing. Didn't matter. Because of the high degree-of-difficulty points, Lydia still scored enough points to win a bronze medal. The jump went into the record books. Lydia did it and she did it first. Maybe not perfectly, but she did it.
This reporter was at the press conference afterwards. Funny story. The winning jump was just before midnight local time. The presser was at 1 am. Lydia answered questions with her helmet still on. She was buzzing so much, it never occurred to her to take it off.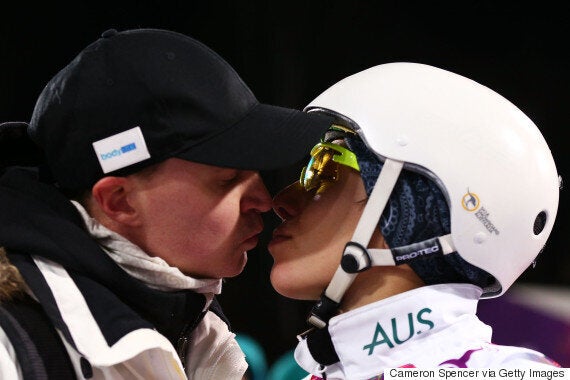 Lydia even left her lid on when she kissed her husband Lauri.
Expect Lydia to be buzzing again this weekend as her movie takes off around Australia. It was made by her friend and former aerial skier, Kate Bender. And it's really high quality.
"I visited Lydia when she'd just returned to [her training facility in] Utah as a mum. I'd been working making movie trailers in Hollywood and when she told me what here plans were, I thought this could be a unique feature documentary," Bender told The Huffington Post Australia.
"It's one of the most dangerous sports in the world. Being a mum there are huge risks involved. I think all the mums that see this journey will be fascinated, and it will be motivating for all the mums that are trying to return to work after having children as as well.
"I want this film to impact women and girls to believe in themselves despite any adversity. We don't see enough of these raw stories told properly."
This story is told brilliantly. The question is: does the Lydia Lassila story end here? She would like to press on to the next Winter Olympics in Pyeongchang, Korea in 2018. But that depends on whether Australia can build a decent training facility.
In The Will To Fly, there's footage of the Aussie aerials team training in an awful muddy pond near Melbourne. You also see the sparkling Utah facility, which has just received a $US8 million upgrade. Australia's aerial skiers want something similar. As mentioned, their Olympic medal haul warrants the love.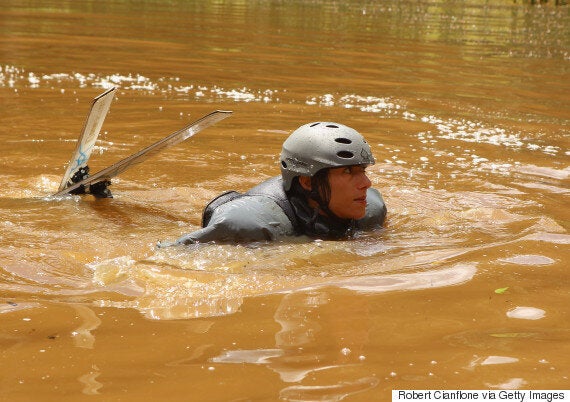 Ex-Queensland Premier Campbell Newman almost built one, but backed out before the project was finished. A similar facility is now mooted for Lennox Head on the NSW north coast.
"It has federal government support. We just need the New South Wales government to fill in the blanks and get this thing built which we needed four or five ten years ago," Lydia said.
Not much has stopped Lydia Lassila in the past. It would be sad if government red tape was the thing that ended an inspirational career.