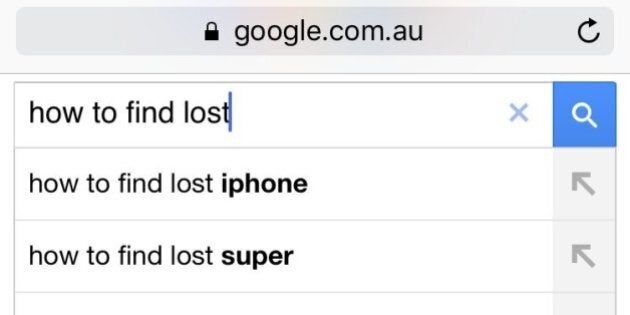 When you type in 'How to find lost' on Google, superannuation is the second word to pop up.
Iphone is the frontrunner, obviously.
But the second suggestion isn't surprising when you look at the amount of unclaimed and inactive superannuation accounts across the nation.
There are more than 6 million lost, inactive or unclaimed super fund accounts in Australia with a collective worth of $16 billion. That leaves a lot of unclaimed accounts in the Australian superannuation market.
So before Dr. Evil raises his pinky finger with that Dr. Evil laugh and an ingenious plan to steal it all, you should probably find -- and reclaim -- your fair share of it.
If you live in Sydney's Darlinghurst or Surry Hills -- with the postcode 2010 -- you could own one of the 3,822 abandoned accounts adding up to a total of $40 million. This is the suburb with the most unclaimed super in dollar worth across the state, which has the most unclaimed super in the nation.
Prime Minister Malcolm Turnbull's home suburb of Point Piper only has $8 million in lost super, with 619 abandoned accounts. And that's debatably a contributing factor to why many can afford their million dollar homes with harbour views.
"Australians can save thousands of dollars in unnecessary fees and charges by taking a few minutes to consolidate super accounts they no longer need," an ATO spokesman told The Huffington Post Australia.
"The median figure for fees and charges paid by Australians for a low cost superannuation account is $532 per year. So combine any super accounts you no longer need.
"But remember, before you close your super accounts, check with your fund about insurance and fees and charges."
The ATO advises Australians to keep in touch with their super fund, as accounts can be lost or unclaimed if there is no contact made for a long time.
But if you think you might be too far gone in this department, allocate some 'life admin' time to find your super accounts, consolidate them to reduce the annual fees -- to point yourself in the direction of Point Piper, of course.
The easiest way to do this is to create a myGov account through the ATO, which will track all of your accounts for you.
But if it all gets too hard, give your current super fund a call, and many will check the national database for you. You may as well get the most out of your annual fees.