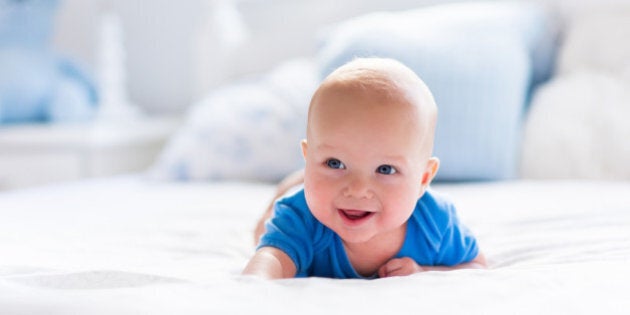 Australia's peak allergy body is throwing out old recommendations and asking parents to feed their babies allergenic foods like seafood and peanuts.
Society chair Diane Campbell said over the last 25 years, allergic diseases had more than doubled in Western countries and up to two in five children in Australia and New Zealand were affected by allergic disorders.
"That's the $6 billion question. We don't really know why this increase has occurred," Campbell told The Huffington Post Australia.
"The previous advice recommended avoiding all food considered allergenic or allergy prone in the first two to three years of life," Campbell said.
Allergenic foods include milk, eggs, peanuts, wheat, tree nuts and seafood. Campbell said these foods, along with the standard food that the family eats, should be introduced one at a time when the baby is between four and six months old.
Campbell said ASCIA definitely didn't recommend delayed introduction of peanuts.
"Now we have some quite high-level evidence particularly for babies that have bad eczema or already have an egg allergy that you can significantly reduce the risk of peanut allergy if it's introduced before 12 months of age," Campbell said.
Another new piece of research showed there were no benefits to using hypoallergenic formula over standard commercial formula.
"We are no longer recommending the use of any hypoallergenic formula -- if the mother can't breastfeed -- for prevention of allergic diseases.
"We still recommend breastfeeding for four to six months as long as the mother and baby are able to," Campbell said.
Family Food Works paediatric dietitian Eve Reed told HuffPost Australia that the guidelines would continue changing as new evidence was published.
"I remember 10 years ago, based on the research at that time, mums were told to avoid the common allergens through pregnancy and breastfeeding. But today the guidelines say mums or mums-to-be shouldn't restrict their diet at all. It won't make any difference to their infant developing an allergy," Reed said.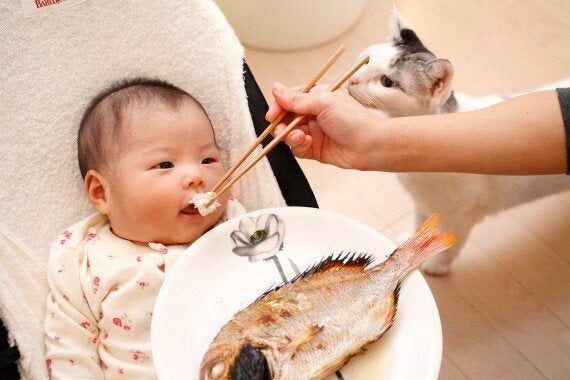 Allergenic foods like fish should be included in the baby's diet between four to six months.
Reed stressed the importance of introducing allergenic foods to the infant at four to six months.
"A recent study took babies in the same genetic pool and those introduced to peanuts earlier as opposed to those introduced later were less likely to have peanut allergy in their childhood," Reed said.
Reed -- who was a senior member of the Department of Nutrition and Dietetics at the Children's Hospital at Westmead for more than 13 years -- said the guidelines suggested solid foods should be introduced around six months, but the child's developmental readiness should also be considered.
"They need to be able to hold their head steady and be interested in what's happening around them, and open their mouth in response to food being presented to them.
"There is no particular order that solids should be introduced, as long as they include iron-rich food like red meat, iron-fortified cereals and legumes," Reed said.
According to Campbell, the updated guidelines were prompted by recent 'high-quality studies' pooled together providing more evidence for what parents should do for infant feeding specifically related to allergic diseases.
"The guidelines are specifically designed for parents and consumers and they aim to give parents up-to-date information about how they might be able to reduce the risk of specific allergic diseases and general advice about introduction to solid goods," Campbell said.
Changes to the ASCIA guidelines:

There is no consistent evidence to support that hydrolysed formulas (usually labelled HA or hypoallergenic) assists in allergy prevention in infants
Infants at high risk of food allergies, such as those with severe eczema or who already had a food allergy reaction to egg, introduction of regular peanut before 12 months of age can reduce a peanut allergy

Complementary or solid foods should be introduced to infants from four to six months (while breastfeeding) -- when the infant is ready

Infants should not be fed raw egg, but there is moderate evidence for the introduction of cooked egg into the diet of infants with a family history of allergy before eight months of age to try and reduce the risk of egg allergy