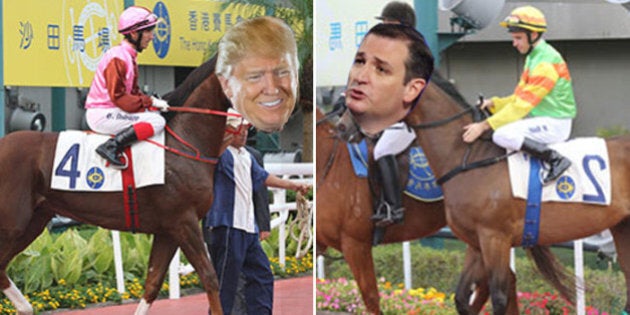 This was an interesting weekend in sport. We learned that Maria Sharapova is hated by pretty much everyone on tour and that Jarryd Hayne never really wanted the big house and the fast car but just wanted to be challenged.
But first we're going to tell you about a horse race in Hong Kong. Why? Because in Race 9 at Sha Tin racecourse on Sunday afternoon, a horse called Trump ran. And failed. Badly. Trump, a seven-year-old gelding, ran 13th in a field of 14.
The winner? It was a horse called Mighty Maverick and -- irony of ironies -- its trainer was a fellow named Cruz. In a further twist, the favourite was a thing called Simply Invincible which also flopped to run 10th. There's no video, sorry. But you can see the race results here.
Speaking of people who are becoming less likable every day, Maria Sharapova had a bad weekend. She was absolutely slammed by French player Kristina Mladenovic. Here's a taste of what the world number 29 told French newspaper Le Parisien:
"All the other players are saying she's a cheater... You sure doubt and think that she didn't deserve all she won until now. That's dreadful, but it's good that it's finally out. As far as I am concerned if I take an aspirin I worry 10 times about what I do. She's been taking this drug for 10 years and it's a serious drug. She has played with the rules and thought, if it's not banned, then I can take it. For me that's very disappointing.

"I don't like the mentality to be the best by playing with the rules. She can play with words and find a good lawyer but on the principles of the situation, she's wrong. She has no excuse that can defend what she's done. For me there's no doubt."
Rafael Nadal wasn't feeling too charitable either.
If you missed the news last week, Sharapova's drug was fed to Soviet era "super soldiers" who needed extra oxygen to fight in mountain environments.
Meanwhile, Australia's swimmers have been warned not to speak out about Chinese swimmers who have been training in Australia. At least two drug cheats are among the swimmers training here and our own swimmers are not impressed.
"Speak only about yourself; about your own performances and your own journey and not about any other issues surrounding the sport," the official Swimming Australia order, which was leaked to The Sunday Telegraph, read.

"Respect your rivals. Avoid speaking negatively about your opposition; whether domestically or internationally.

Be mindful of issues that can have far-reaching affects. Avoid commenting on any issue that may reflect poorly on yourself, your coach, your program, Swimming Australia and its sponsors or future sponsors and partners."
Speaking of drugs in sport, the Essendon Bombers are having a nightmare. Without the "WADA 12", they were absolutely destroyed by last year's AFL runners-up the West Coast Eagles, in the NAB Challenge.
In better news for the game, and for a man who seems to be overcoming personal issues, Buddy Franklin had a brilliant game for the Swans.
Meanwhile the South Sydney Rabbitohs absolutely destroyed the Knights. Which reminded us a lot of this video.
The Parramatta Eels had a tough win over the premiers, the North Queensland Cowboys. The Eels have had to play last year's grand finalists in the opening two rounds.
The Eels' most famous son, Jarryd Hayne revealed some interesting stuff on 60 Minutes on Sunday night. "Nuts, I'm crazy. I'm it," Hayne said in an interview with Karl Stefanovic.
"I'm not normal, you know? I think the world in general, that's what the world thinks life is about, to be successful and to have a big house and have a nice car," Hayne said. "But you know, for me it's about being on an adventure, finding out who you are, and pushing and growing as a person."
If anyone is still wondering why we were all glued to Hayne's story earlier this year, it's because he's a man who dares to dream. Love ya' Jarryd.
And if you need something to get you in the groove this Monday, here are the Kentucky Wildcats who over the weekend won the South East Conference College Basketball Championship.