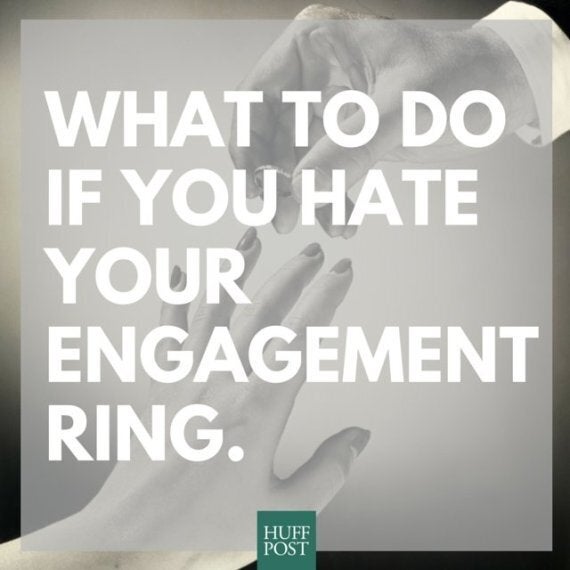 Depending on the situation, a marriage proposal can be one of the most romantic and defining moments of a couple's relationship.
But before you think it's a moment that belongs to just the two of you, think again. Any newly-engaged pair will tell you it's one of the first things they're asked about ("so how did he/she do it?") before being commanded to show off The Ring.
Ah, The Ring. So much importance placed on a single piece of jewellery. Of course, given it's meant to symbolise undying love and lifetime commitment, choosing an engagement ring should not be something that's taken lightly. But sometimes, despite the groom's best efforts, it's just not what the bride had in mind. (Reading between the lines here: she hates it.)
So what on earth do you do?
From a bride's perspective, take a deep breath and don't react straight away.
"I think it's best to give it a few days to sink in as in the moment emotions are running high," Managing Editor of Cosmopolitan Bride told The Huffington Post Australia.
"It's often also the first time you'll have a sizeable amount of bling on your finger which you may not be used to."
If a couple of days pass and you're still not happy, it might be time to consider saying something to your partner.
"I think you'll know in your heart if you really need to say something," Teasdale said. "But also consider this -- a lot of women I know don't wear their engagement ring every day, just their wedding band. Sometimes because of their work or travel or they want to keep it safe. Also you'll likely choose your wedding band, which you may wear more often. Plus, a wedding band can really change the look of an engagement ring. So consider the band before you make any big decisions."
If you can't hide it and the conversation is something that has to happen, "I would approach it always with a lot of love," advised Teasdale. "Your partner may have spent a lot of time and money on the ring, and the last thing you want is to offend them at such an exciting time in your life."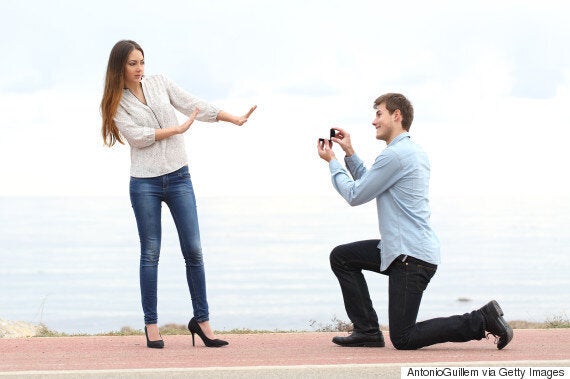 Try to remember what the ring actually symbolises rather than getting hung up on how it looks.
"Do the research beforehand. See if you can get in touch with friends of hers that can keep the secret, and confirm you are on the right path before she sees it," Ely told HuffPost Australia.
"It's also becoming much more normal to see the girls getting involved more, either with the design of the ring or even just providing her partner with a Pinterest page to help along the way.
"If it's a complete surprise, look at what her general style is rather than just jumping straight in. Look at her other jewellery and what she wears on a day to day basis.
"At the end of the day, if the guys do something relatively classic they are going to be fine. Otherwise I would definitely suggest getting some advice or being 100 percent sure this design is something she's going to like."
Ely also says it's wise to be upfront with your jeweller and to ask plenty of questions.
"There have been times where girls have come in beforehand and given me the whole rundown [on a ring] and then the guy comes in and hasn't even mentioned who his partner is," Ely said. "Then he has gone ahead and bought a ring straight out of the window without any direction."
You might also need to be aware what you had in mind -- no matter how sentimental -- might not be appropriate.
"Just recently a guy brought in a piece of glass which had meaning to him and his partner. It was a piece of black obsidian, which is a natural-forming glass, but it wasn't good enough quality to be able to cut. It was more of a sentimental thing.
"So I was able to steer him toward a black diamond with white diamonds around it, which was a way of gently using that sentiment and relaying in into something more appropriate that can be worn for a longer period of time.
"I think it's really important in these types of scenarios to ask the opinion of the jeweller -- 'do you think this will work?' or 'Is this going to last?'
"Another good example of that is a pearl. Your partner might love a pearl but need to be willing to replace a pearl after a number of years because they are not designed to wear everyday like a diamond is.
"They will wear in ways that a diamond wouldn't.
"Of course I'd never steer people away from what they really want, but I do try to make them aware of what they may need to do in the future."
In terms of having to amend rings post-proposal, Ely said it's not uncommon to see a couple return after a few years of marriage to have the ring altered or upgraded.
"A lot of couples come in for an anniversary present change," Ely said. "They use the anniversary as an excuse to change or upgrade -- it's actually quite common.
"Women will often use the original diamond as a little pendent or something. The case might be, [the original ring] was always meant to be altered at a later date. Some couples approach the situation with the attitude, 'well, the wedding is expensive, let's just get this for now and we'll upgrade later.'"
No matter what the situation, Teasdale reminds brides that the ring -- even if disastrous -- was bought with the best intentions.
"As much as we would love our partners to always get it right and to buy us the perfect gift every time, it often doesn't happen like that because no one is a mind reader," she said. "Plus there is so much pressure on the ring, it's no wonder they might get it wrong. If I had to buy something that important, I would feel the pressure too!
"Above all it's important to remember the meaning behind the ring and what it symbolises, which is that you both want to spend the rest of your lives together, which is such a beautiful thing. Far more beautiful than any ring could ever be."