Footage captured by Ben Littlejohn, Act for Peace.
Being a twin is special for anyone, but for Majd and Fathi it means so much more.
The twin brothers fled Syria three and a half years ago, one and a half years after protesters of Bashar al-Assad's regime first clashed with the military.
Five years on, as the civil revolt has grown into a war much bigger than Syria itself, Majd and Fathi are two of the 4.6 million Syrian refugees displaced by it.
They've lost homes, livelihoods, family, friends, and for many, their basic human rights.
For Majd and Fathi, the most important part of their lives the war has taken from them is their father.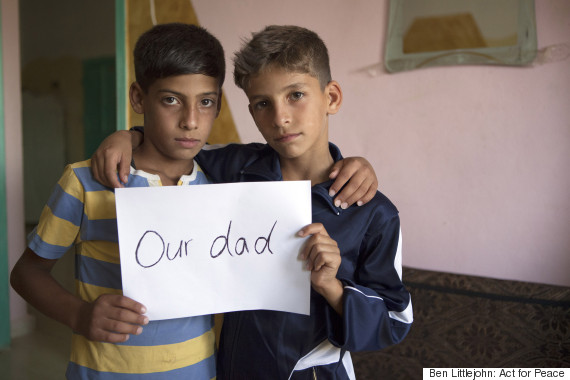 Majd and Fathi.
The last time they saw their dad was in November 2012, just before their mother, Fatima, dragged their family to Jordan.
"When the war started, the Syrian army wanted to take my son, and force him to kill fellow Syrians. The army knew we'd refused for our son to be conscripted, so we had to leave Syria," Fatima said.
"We couldn't get passports, so we had to pay to be smuggled out. It was a very hard journey. The smugglers drove us in pick-up trucks across the desert, and they drugged the children at night so they wouldn't make any noise and get us discovered."
Fatima's eldest son would later be arrested by the Islamic State. But fortunately he was one of the 11 people -- out of 150 -- to survive a bombing at the prison.
"Eventually they set him free. Now he's married, with a baby," Fatima said.
Fatima and six of her children -- including Majd and Fathi -- now live in Jordan, and are some of the many 'urban refugees' photographer and aid worker Ben Littlejohn met in the country.
"Those urban refugees really need support because they're harder to find, I suppose, because they're living amongst the rest of the population and they don't get the same access to rations and support that people get in refugee camps like Zaatari," Littlejohn told The Huffington Post Australia.
"People are living in basements, in shelters, any rooms they can find in and amongst the population."
Littlejohn, who works for Australian aid agency Act For Peace, asked many of these refugees what the Syrian Civil War took from them.
Family. Stability. School. Dignity. Safety. Fathers.
Everything.
"A lot of people said everything," Littlejohn told HuffPost Australia.
"It's hard to imagine what that really means, unless you've experienced it.
"Five years ago these were people living ordinary lives. They were teachers, they were plumbers, they were school kids and a lot of people said they never expected this to happen to them.
"That's a hard thing to have to cope with as well as the physical loss -- that emotional trauma of having the world sort of pulled out from under your feet when you were never expecting it."
But for Fatima, the war hasn't taken away her smile. The Syrian now helps distribute aid to fellow refugees for Act for Peace in Jordan -- with a grin from ear to ear.
"The experiences that she had really drove her to help other people," Littlejohn told HuffPost Australia.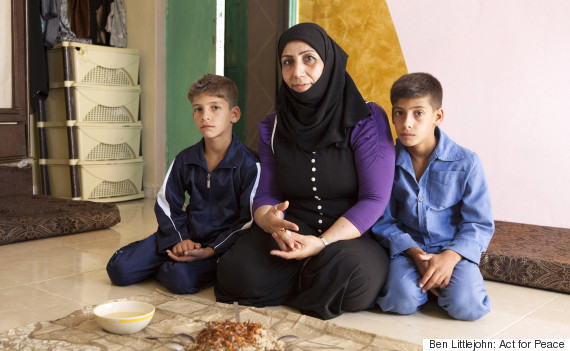 Fatima and her boys.
"She volunteered to the program, she helped deliver rations, to support and train other women within the refugee community... they help to identify who the most vulnerable in the community are, as the need is much, much greater than the resources we have to support that.
"Sometimes we're only able to hand out 100 packs to reach 100 families, and there might be thousands of people who need support in that community."
While February saw a fragile ceasefire and Putin announced on Monday Russian troops would be withdrawn from the war zone, the war is far from over -- even for those who have fled.
"It is obviously a horribly complex and tragic situation and sometimes it can be hard to see the end in sight," Littlejohn told HuffPost Australia.
"We have a responsibility to support people until the day comes when it is safe for them to go home. And obviously we don't know how long that is going to be."
Act for Peace is challenging Australians to eat the same rations as a Syrian refugee for one week in June, to raise awareness for the millions of refugees, like Fatima and her boys, along with funds to deliver more care packages.
For more information or to sign up to Act For Peace's Ration Challenge visit www.actforpeace.org.au