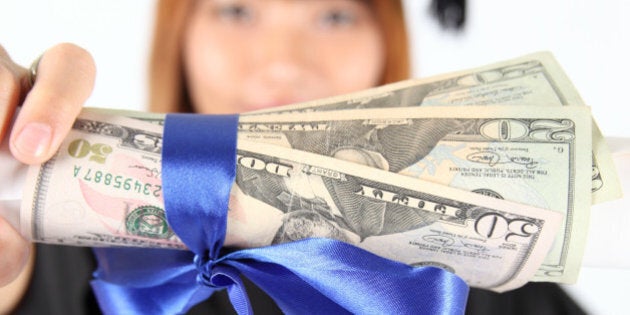 For up to 1 million students heading back to uni, a year of questionable finances loom as they balance rising rent prices, casual weekend work and a social life.
But new research conducted by Westpac shows that millennials may be more financially savvy than we think.
According to the Westpac O-Week Student report, 89 percent of Australian students manage their finances as a priority, but 69 percent see this as an ongoing challenge.
"It's great to see money management is top of mind for many students, but we also know the majority find it difficult to manage," Westpac's Head of Youth and Millennial Markets Ashley Gray told The Huffington Post Australia.
The report surveyed the attitudes and behaviours of 1094 Australians aged between 18 and 30 who are currently studying (or have recently studied) at a tertiary education facility.
On average, an Australian student spends $17,686 a year on rent, utilities, food, transport. According to the research, top financial priorities include day-to-day expenses (52 percent) and maintaining an active social life (40 percent). Just over one third of respondents were looking forward to securing a deposit for a home.
The study turned to ex-tertiary students, revealing that more than half of those wished they hadn't spent money on 'unnecessary things'.
"Our research revealed that females are actually spending less than males while studying, and are also more likely to agree managing their finances and putting together a budget planner are signs of financial savviness, which could be one of the reasons why their expenditure is lower. What is pleasing to see, is both males and females see managing their finances as a priority.
"The real opportunity is to help students build good savings habits early on, by encouraging them to set budgets and monitor spending habits. Putting aside a little bit every week can make a big difference at the end of the year."
"Being financially savvy and having a good time don't need to be mutually exclusive.It's about being really aware of your income and expenditure and spending smartly."
"The best thing to do is to start off with forming a plan. If students are aware of what their income and expenditure is, then they can start to make smarter financially-savvy decisions. If they can aim to save ten percent -- and get into that habit early on -- then that will pave the way for success."