ASSOCIATED PRESS
A group of Syrian and Iraqi refugee families accepted under the Federal Government's increased humanitarian intake can expect to call NSW home by the end of this month.
In September, Australia agreed to take 12,000 additional refugees in response to the ongoing Syrian crisis, but just 26 arrived in Australia as of last month.
NSW Coordinator-General for Refugee Resettlement, Professor Peter Shergold, said families will be arriving in NSW in March.
"I can confirm that families are arriving from this month, and will arrive progressively over the next 18-24 months," he told The Huffington Post Australia in a statement.
"From the Commonwealth's intake of 12,000 additional refugees, and based on the NSW population, we expect that NSW would settle at least 4,000 additional refugees.
"Security, health and character checks are an essential part of the resettlement process and we have been fortunate to have been afforded this extra time to set in place the best possible planning processes in NSW."
Late last year, Shergold began meetings with several regional councils to discuss their ability to integrate Syrian and Iraqi refugees into their communities.
Premier Mike Baird has said NSW stands ready to take more than its fair share of refugees displaced by the conflict.
The Refugee Council of Australia said it had met with Federal Government representatives two weeks ago, and they were assured the process would move faster in March. 
CEO Paul Power told HuffPost Australia in a statement last week the process had been "frustratingly slow".
In February, Immigration Minister Peter Dutton said several thousand people were waiting to have security checks, and Australia's national security was the top priority when processing refugee applications.
In the six months since Australia agreed to take the refugees Canada has accepted more than 28,000, just over 26,000 of whom have arrived on Canadian shores.
Assyrian Resource Center manager Carmen Lazar has since last year collected more than 5,600 files on refugees affected by the Syrian conflict who want to come to Australia.
She and a group of church leaders met with Immigration Minister Peter Dutton last Thursday.
"We raised our concerns about what's happening," she said.
"He said due to the strong security measurements they are taking, that's why it's taking a long time for the applications to process.
"I am frustrated and saddened. I am not blaming the government, I am blaming the system."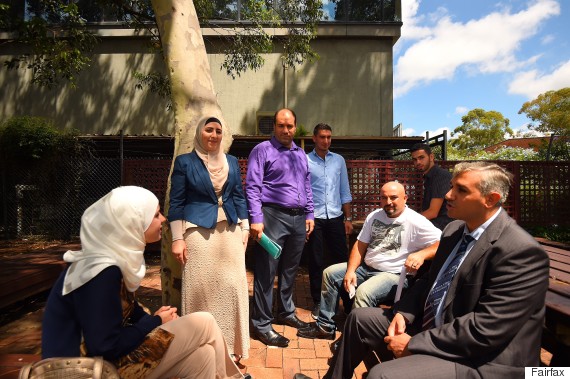 Members of the Syrian Community Association gather in the Sydney suburb of Blacktown to discuss how they will assist the new Syrian arrivals that will settle in NSW. 28th January, 2016. Photo: Kate Geraghty
A spokeswoman for Dutton said in a statement the Government has "consistently said that the processing of refugees from Syria and Iraq will not be rushed".
"It will take time to identify those most in need and then carry out the appropriate checks before they come to Australia," the spokeswoman said.
Sarkis Mouradian, a spokesman for the NSW Ecumenical Council's Middle East Commission, said he was also frustrated by the long wait.
"The pace of the program is too slow compared to previous years," he said.
"I do understand the Government has a difficult assessment process with trying to make sure all the checks are done.
"But when you compare it to the Canadian model, where they seem to be able to relocate about 22,000 refugees in a very short period of time compared to our government's 12,000, it's not good."
In November 2015, the first family of refugees as part of the increased intake arrived in Perth.
The following month, a family of seven became the first of up to 800 Syrian refugees to be resettled in South Australia.
Shergold last month announced 10 NSW universities had joined forces to offer scholarships, financial assistance and other support for refugees on a humanitarian visa.
This week marks five years since the Syrian conflict began.