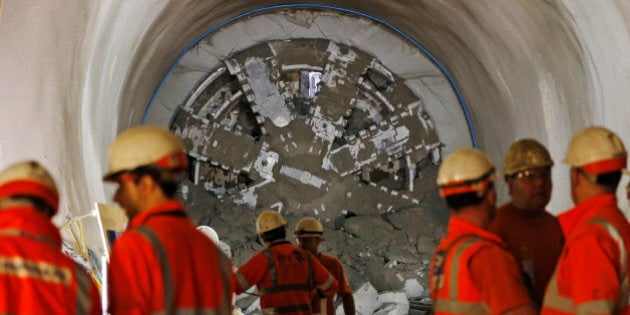 Will there ever be a time when the political and social stars align for long enough that large-scale, economically important infrastructure projects are no longer treated as political footballs?
Malcolm Taylor thinks so.
Taylor leads strategy and implementation for Crossrail, a rail project in London which -- at $24 billion -- counts as Europe's largest infrastructure development. The company says the project is being delivered on time and under budget.
Right now though, Taylor is thinking about walking across the site for Brisbane's proposed Cross River rail project.
"There will come a time, when you get that alignment where the infrastructure is not seen as a political pawn. Infrastructure is not a ping pong ball that should be used in a game," he told The Huffington Post Australia.
"What should be happening perhaps is people should be looking to align political interests to recognise that infrastructure is a means to growing the economy that will benefit all.
"The difficulty is of course what do you do when you haven't got any money to even kick start it. That's why these schemes can take a long time to get going."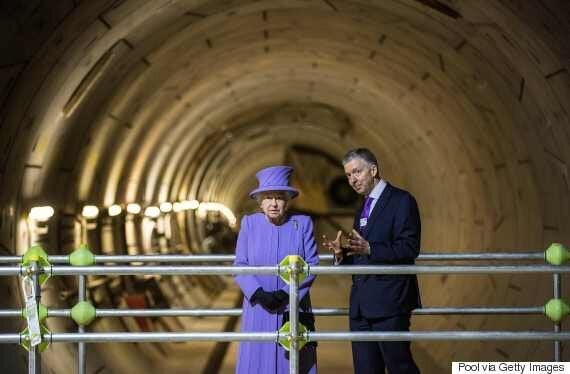 Queen Elizabeth stands with Transport for London (TFL) Commisioner Mike Brown at the entrance to once of the new Crossrail train tunnels on February 23, 2016.
He should know, having worked on aspects of Crossrail since the 1990s, before it finally got the go-ahead in 2007.
By the end of the decade it will be more than 40 years since the name Crossrail was first used, and 75 years since the idea of running mainline trains through central London tunnels was first proposed.
It took that long -- and many different proposals -- for the project to eventually get approved.
It's been no small task building Crossrail. Five 1000-tonne tunnel boring machines chewed through the earth at a snail-like 100m a week to pave the way for 118km of track, removing six million tonnes of excavated material.
When its first phase is finished in 2018, Crossrail will carry 200 metre long trains, each carrying up to 1500 passengers as it cuts an east-west route through London.
"One thing is as sure, if you don't invest in these schemes for public transport, absolutely as sure as eggs is eggs, the number of cars will rise, the amount of spare capacity on the roads will decrease day by day," Taylor said.
Last year an updated business case for the WestConnex motorway showed construction costs blew out by more than $1 billion. It put the cost of the 33 kilometre toll road at $16.8 billion, up $1.4 billion than was estimated in the State's budget.
When the project was first announced in 2012, its estimated price tag was $10 billion.
Among the keys to delivering a project of the size of Crossrail on-time and on-budge is consensus, information sharing and autonomy, Taylor said.
Over several years the company achieved a level of autonomy from government, and implemented shared databases so contractors can receive up to date information on the project.
"You need to have confidence that your contractors, your designers, can deliver those projects in budget and on time, because if you don't have trust in that and and there's a degree of uncertainty, then that's a very, very difficult environment."
"Typically rail projects around the world can usually have costs underestimated by up to 40 percent and benefits over inflated by 15, 20 percent or more.
"That's not good. Constructors and designers and people like me, we generally need to be better and more predictable so that governments and public authorities, when they are purchasing these pieces of public infrastructure, know what they are getting when and for what price."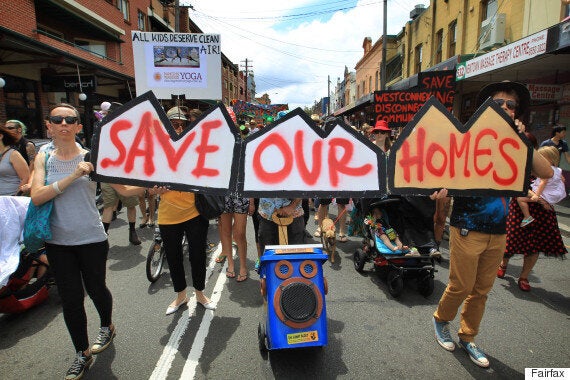 Local residents take to the streets of Sydney's Newtown to protest the development of the NSW government's WestConnex tunnel and road project on February 1, 2015
He jokes that with the completion of Crossrail, the "objective is to make ourselves unemployed."
That might not happen as quickly as 2018, with Chancellor George Osborne on Tuesday green-lighting Crossrail 2 ahead of the UK budget.
In February last year Infrastructure Australia released its Infrastructure Priority List, which identified 93 projects and initiatives.