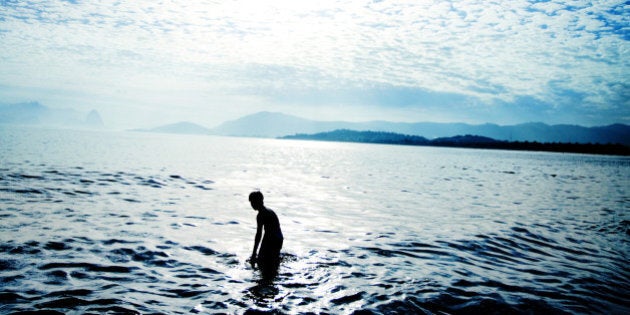 No, we're not talking Brad and Ange in the 2005 film they hooked up in -- we're referring to the boutique, high-end travel service.
Cofounded by husband and wife team Tamara and James Lohan, the business operates from offices in London, New York, L.A and Singapore and has more than 1.5 million members worldwide.
Tamara and James often travel the globe hunting down new and unique hotels and properties to add to their portfolio. We can think of worse gigs! And who better that the stylish, well traveled duo to nominate achingly hip places from around the world you might just want to visit.
Your favourite city in the U.S.A
Tamara: "I'd have to say Los Angeles because it has it all, and then some. Sunshine, shopping, the enormous stretch of coastline and incredible places to eat - I love Gjelina in Venice. And of course, the entertainment -- an outdoors concert at the Hollywood Bowl with the backdrop of the Hollywood hills is hard to beat."
James: "I'm going to say Chicago because there's a lot going on there at the moment. Cafes spill onto the pavements in spring and summer, and the bar scene is hotting up. We've got some great value hotels there too - The James Chicago and Hotel Lincoln, which has an excellent rooftop bar and original artwork in the hallways."
Tamara: "Budapest. With a stay at the fantastic Brody House with it's unique, art-led rooms. It's such a fun city with a great bar and arts scene."
James: "For me it's Stockholm, and a stay at the incredible Ett Hem, designed by Ilse Crawford. Translating as 'At Home' it's a stylish townhouse and right up there as one of my favourite places for cosy conviviality, with hand picked antiques and Modernist chairs."
Favourite place to visit in Australia
Tamara: "I really love Melbourne. I'm a foodie and coffee addict and it doesn't get much better here - Melbourne has to be the best place in the world for a great cappuccino. I've excited to visit Coppersmith too, one of our new hotels there."
James: "It's got to be Hamilton Island and of course, Qualia. Our son Tom is eight and is old enough to get very excited about diving - how do you beat the Great Barrier Reef?"
Qualia Resort on Hamilton Island
Where you go when you just want to relax
Tamara: "Brazil. We took the children there last summer and had the most incredible trip, heading from Rio to Trancoso which has an incredible long, soft-sand beach and a stunning central communal common lined with pretty single-story houses all painted in vibrant colours. Though I can relax anywhere as long as I am travelling and exploring."
James: "Soneva Fushi in the Maldives for the rustic hideaway villas and barefoot luxury. It's eco-ethos is world-class and its conservation efforts are so good they've even identified a new species."
Tamara: "You can't beat the pulse rate of New York. It doesn't matter how many times we return there's always something new to see."
James: "London. I obviously know it better than anywhere else but again, there's so much to explore with new places opening almost daily. I love Chiltern Firehouse for its sunken bar."
Most Instagrammable location
Tamara: "Uxua Casa in Brazil (can I say Brazil again? I just love it so much!). It's an incredible corner of the world, the colours are full HD every day and when you have a hotel where each and every piece of furniture has been lovingly designed by one of the greatest creatives from the fashion industry it's win win!"
James: "The Treehotel in Sweden. I'm a big kid at heart and there are six branch-hung dens here that you reach by ladders and floating walkways. You can trek through the forest, sled ride at dawn and if you're lucky, catch a glimpse of the northern lights."
Place with the most welcoming locals
Tamara. "Brazil. There is something about this country, the culture, the people, the language, the music that makes me want to go back again and again. It's like coming home every time I visit. I must have been Brazilian in a former life."
James: "Everyone knows it but the Italians win on the global stage when it comes to a great welcome, and extending that to the hospitality scene you'll find Borgo Egnazia in Puglia a stand out winner when it comes to being the ultimate hosts."
A spot you haven't been yet that's on your bucket list
Tamara: "Japan. I'm a techie and so the craziness of Tokyo appeals. I've heard that landing in Tokyo puts you out of your comfort zone and that appeals! Plus with incredible ski slopes and amazing scenery just an hour and a half from the city, it's the perfect mix holiday."
James: "India is intriguing me currently. We're starting to look at some properties there and the vibrancy, colour and culture would be fantastic to experience first hand. Watch this space!"