There is a lot of talking in 'A Bigger Splash,' the latest film from Italian director Luca Guadagnino, but don't expect much of it to come from Tilda Swinton.
As rock star Marianne Lane, Swinton is, in the words of Variety's Peter Debruge "a gender-swapped David Bowie-like glam figure" taking time out from the showbiz world to recover from throat surgery with her partner Paul (Belgian actor Matthias Schoenaerts).
But the pair's loved-up Mediterranean getaway is soon disrupted by the arrival of Lane's ex-lover Harry (Ralph Fiennes) and his seductive 22-year-old (we think) daughter (we think), sultrily played by 'Fifty Shades of Grey' star Dakota Johnson.
Place these four characters in a remote villa, add some none-too-subtle sexual motives, and soon you have not only an interesting premise, but the increased likelihood that at least one of the four will be going home from this particular holiday in a body bag.
Ralph Fiennes and Dakota Johnson in 'A Bigger Splash'.
The casting -- undeniably a crucial factor in a film such as this -- came about bit by bit, though Swinton, Guadagnino's long-term collaborator, was always his first pick for Lane.
Interestingly, the decision for Lane to remain mostly mute throughout the film (while everyone else does everything but) actually came from Swinton herself, a move Guadagnino notes is a far cry from the typical behaviour of most actors.
"This tells you of the incredible quality Tilda has as a filmmaker," Guadagnino told The Huffington Post Australia. "It's a filmmaker idea, it's not an actor idea.
"This is typical of Tilda looking at the movie and asking 'what is the movie trying to say?' and 'what can we do to communicate that?'
"The decision to have Marianne Lane not speaking, it just shows the commitment Tilda has to the movie and the storyline, not her own role."
Loosely based on Jacques Deray's 1969 psychological thriller 'La Piscine', (though Guadagnino admits to having only watched 'La Piscine' once, when he was 16, and has not felt the need to revisit the work), 'A Bigger Splash' was a project Guadagnino says he was initially reluctant to take on.
"At first, I really was resisting the idea of making a movie about rich people lounging in the sun," Guadagnino told HuffPost Australia.
"Then I understood, even if it is rich people lounging in the sun, there is a common thread which can speak to them and to us, the viewer, and that is the essence of desire.
"I wanted to ask 'What is desire?' And how desire makes us behave. When I realised I wanted to make a movie about desire, I said to myself, 'okay, we'll try to do something committed and truthful and personal on that ground and see where we go'."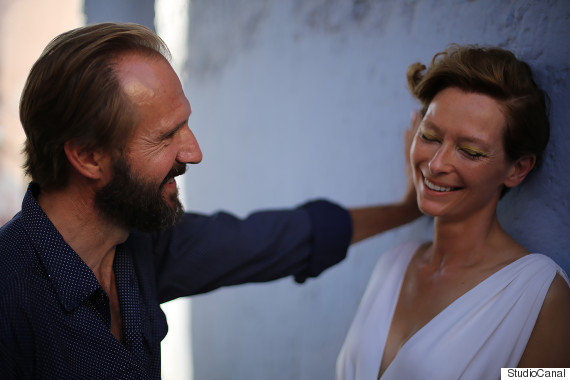 Ralph Fiennes and Tilda Swinton.
On the other end of the spectrum to the necessarily silent Lane is her ex-lover Harry, a perpetually "up" hedonist played with boundless energy by Ralph Fiennes.
"Ralph is a gigantic performer," notes Guadagnino. "He has been part of my imagination for the last 23 years, since I saw him for the first time in 'Schindler's List'. I remember being really like, 'wow'. He wowed me. He's divine.
"I always wanted to do something together. I was coveting and nurturing ambition to do something together. Suddenly I had a realisation when I saw the trailer for 'The Grand Budapest Hotel' that he was going to be fantastic for this specific role. And he was."
Dakota Johnson was cast in the role of Penelope, Harry's supposed daughter, after she had filmed 'Fifty Shades of Grey' but before it hit cinemas and she became a household name. Guadagnino says the young actor entered his radar after 'Fifty Shades' director Sam Taylor-Johnson sang her praises, and when he saw the movie, he realised "Dakota and Sam had done something great with the role [of Anastasia Steele]."
"There was a very great intelligence at stake there. I met Dakota and saw how great she was, and I knew immediately I wanted to work with her," Guadagnino said.
Once Guadagnino had decided on the "force of nature" of Schoenaerts for the role of Paul -- Lane's would-be documentary filmmaker boyfriend, who becomes the object of Penelope's desire -- the four-piece stage was set, and cast and crew were bundled off to Pantelleria (an island off the Sicilian coast) for a two month shoot.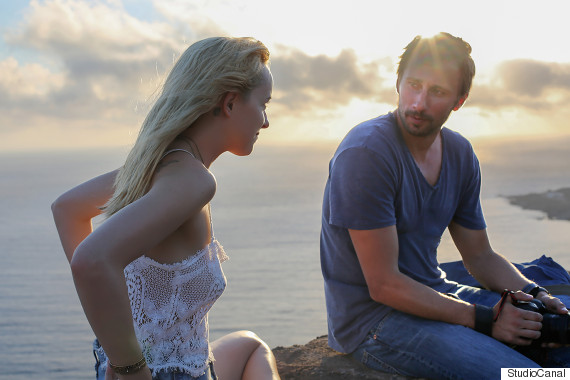 Johnson and Schoenaerts as the mutually attracted Penelope and Paul.
"Pantelleria time -- it's a specific suspension of time. It's like being on the moon," Guadagnino said. "Particularly for me, who is someone who doesn't like the sea, the sunshine or the heat. I wanted to be home.
"But we were all together there. Being a claustrophobic person, I would say [it was claustrophobic] in a bad way. But it was good for the movie. I knew it was good for the movie."
In terms of the final result, Guadagnino says he is happy to leave it to his viewers to decide.
"I leave this to be the audience. Let them decide," Guadagnino said. "I aimed to give an electric spin to the audience through this film. I want to give them an energising and overwhelming experience. I hope I did."
'A Bigger Splash' hits Australian cinemas on Thursday, 24th March.
Visit HuffPost Australia's profile on Pinterest.