ImagesBazaar via Getty Images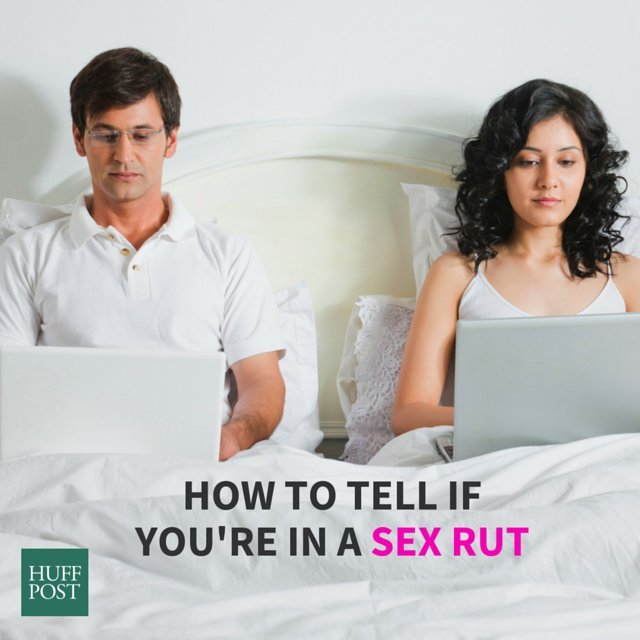 A solid, committed relationship should be commended for many things.
While it may not be defined by the all-consuming spark that lasted through the honeymoon period (and then some) now, the connection is characterised with a trust that transcends the small stuff.
But sometimes, that unquestionable bond gets taken for granted. Most often, in the bedroom.
"Sex ruts are a very common challenge in long-term relationships. Throughout our lifetime our sex drive goes up and down, and so does our partner's," Juliet Allen, sexologist and sexuality coach told The Huffington Post Australia.
The good news is that experiencing a lull from time to time is completely normal.
The more difficult issue at hand however, as Allen points out, is that often people don't realise they are in one.
"Lots of people just get used to life without sex and don't realise that their sex life has become minimal and boring," Allen said.
So what exactly equals a sex rut, and how do you know one is happening?
"While every individual will experience a 'sex rut' in their own unique way, in a nutshell, it is a time when not enough sex is being had, or perhaps sex has become boring or monotonous," Allen said.
Allen said feelings of irritation and frustration which may not necessarily have anything to do with your partner can be a tell-tale sign.
"If you find yourself becoming annoyed easily, it's a good idea to reflect on your sexual habits."
"You may find that perhaps you're not talking about sex as much with your partner, and this is because, as you get into a rut, you don't want to address the problem because acknowledging it means it becomes a reality," Allen said.
Though ignoring the problem will only create a further disconnect.
"People should know it's common to experience mismatched libido, where one person is wanting sex more than the other. There are also life events that we experience that can effect sex drive. Busy work schedules, pregnancy, parenthood, death of a loved one, menopause, depression and anxiety," Allen said.
The fact is, some people don't see regular sex as an important part of life, while others need it everyday.
"Life is about finding a balance as a sexual being and hopefully finding a partner who can compliment what we want sexually," Allen said.
But in order to achieve balance, Allen urges the importance of prioritising sex within your relationship and ensuring the communication is flowing as a couple.
"I've helped many couples deal with this challenge and the most common frustration is that one person is more committed to solving the problem than the other," Allen said.
"Don't be afraid to talk to your partner about what you want, what you don't want, and why it's so important to you. Open up the dialogue and if nothing gets resolved, seek help via a therapist or sexologist," Allen said.
Visit HuffPost Australia's profile on Pinterest.