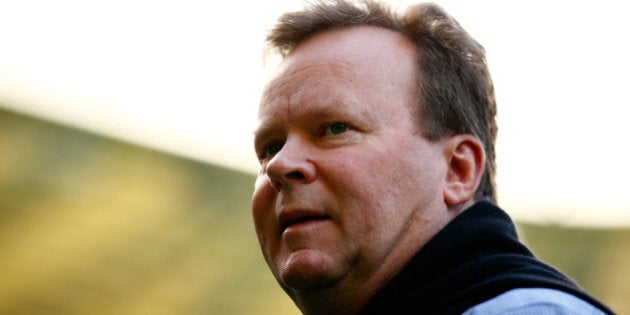 Rugby Union Chief Executive Bill Pulver has three sons and "unfortunately" only one daughter.
"My wife wanted to go for a fifth and I stupidly said no," Mr Pulver told The Huffington Post Australia.
Pulver believes his daughter, who is 23, will one day work in a corporate world free of gender bias. But in the meantime, there is the need to actively change the culture within businesses throughout the nation -- including the Australian Rugby Union (ARU), where only one woman sits on the executive team.
The ARU CEO is one of 12 chief executives across AFL, basketball, tennis, swimming, cricket and racing who have joined the Elite Sports Male Champions of Change -- a program working to get more women into leadership positions and increase gender equality across their organisations.
On Wednesday, Pulver met with five women in management positions at the company and ARU board members Pip Marlow, MD of Microsoft Australia, and former Sex Discrimination Commissioner Liz Broderick as part of a sponsorship program accelerating women into senior leadership positions.
Broderick founded the Male Champions of Change program five years ago.
These five women will be sponsored by a senior employee from another sporting organisation to mentor and fast-track women into top jobs in sports around the nation.
"The CEOs pick one high-level executive from an alternative organisation, then four of my general managers are picking up the next level down in an alternative organisation for sponsorship and mentoring," Pulver told The Huffington Post Australia.
"So it's really quite a cooperative network across sport for sponsoring and mentoring those senior females and beneficiaries of the mentoring program."
Pip Marlow, Liz Broderick and Bill Pulver on Wednesday.
While only one woman sits as an executive within the company, 30 percent of full-time employees inside Australian Rugby Union are female and 50 percent of new hires in the last two years have been women, Pulver said.
The leadership team of 18 includes five females and three of the nine people sitting on the board are women -- Broderick, Marlow, and Carnival Australia Chief Executive Ann Sherry.
"Many women, they were excited to join Australian Rugby but they felt inadequacy or disadvantage because they hadn't had a lifetime of exposure to rugby," Pulver told HuffPost Australia.
"The strategic plan we've put together for the Australian Rugby acknowledges the single biggest opportunity for growth of our game, and it involves normalising the role of women in rugby."
The attitudes towards getting women into top jobs has changed from businesses helping women, to women helping businesses. And the Australian Rugby Union is no different.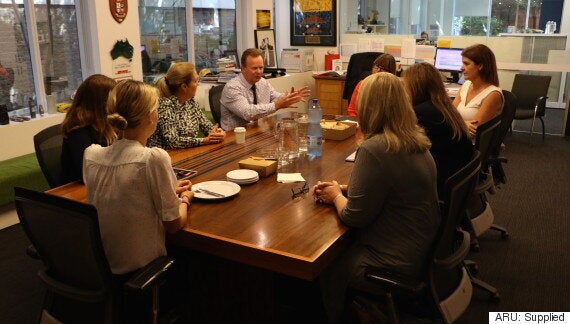 ARU female employees meet with Pulver, Broderick and Marlow on Wednesday.
"Nobody should be under the illusion that this is a bunch of men in rugby trying to do the right thing by women. I mean yes we are, but it's clearly in the interests of the game," Pulver told HuffPost Australia.
"You'll be better managed, you'll have better quality leadership, and better outcomes by having a balance between men and women in senior executive roles."
And this extends to the field.
"We've got young boys in declining rates coming into sport because their parents are nervous about the physicality of the game and risk of injury. As you normalise the role of women, they'll obviously allow their young daughters to come in but they'll also allow their young sons come into the game," Pulver told HuffPost Australia.
"To see rugby fulfil its full potential as a sport, it is crystal clear that we need to accelerate the involvement of women."