It seemed a far cry from the 1953 Mount Everest summit ascent, where New Zealand climber Edmund Hillary and Sherpa Tenzing Norgay together became the first people to stand on top of Earth's highest mountain.
So what had happened to poison the once cooperative relationship between Sherpas and other climbers in the 60 years between?
With this question in mind, Australian documentary maker Jennifer Peedom and her team set out to make a film of the 2014 Everest climbing season, from the Sherpas' point of view. Except they got much, much more than they bargained for.
At 6.45am on 18th April, 2014, a 14 million tonne block of ice crashed onto the climbing route through the notoriously dangerous Khumbu Icefall, killing 16 Sherpas. At the time, it was the deadliest tragedy in Everest's history.
Unsurprisingly, the mourning Sherpas did not want to continue climbing that season. They wanted better, safer working conditions, and so they went on strike, much to the disappointment of would-be climbers who had paid big money for the opportunity.
Peedom and her team were on hand to capture it all.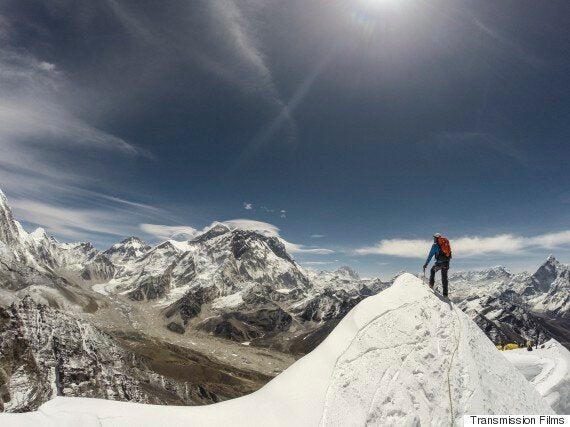 "You know, there had been one Sherpa death at base camp already that season," Peedom told The Huffington Post Australia.
"So we already felt highly attuned to what was going on. In that moment, though, when [the avalanche] was happening, it wasn't immediately apparent that it was as bad as it was.
"Frankly, it was just really sad and really confronting. I felt like we shouldn't be there in many ways, and a huge part of me wanted to pack up and go home.
"At the same time it felt like we were making a film about the disproportionate risk Sherpas take, and nothing else could have illustrated it like this.
"At the time, my instinct was this was the story. And we were in a unique position to capture it. It was, however, very stressful and very sad."
Peedom and crew were on the mountain with Himalayan Experience expedition leader Russell Brice, his Sirdar (head Sherpa) Phurba Tashi Sherpa, and clients. While obviously all devastated by the tragedy, each group had differing approaches to the subsequent strike.
Tashi was mourning the loss of the 16 Sherpas, as well as being acutely aware of his responsibility to look after the other Sherpas on the Himalayan Experience expedition. Brice was in the unenviable position of managing client expectations while still responding to the Sherpas' needs, and the clients themselves are probably best described as a mixed bag. (At one point, when Brice is addressing the group about the Sherpa strike, a client asks 'Can you not talk to their owners?')
"I deliberately dove into the shades of grey in this film," Peedom said. "It was morally complex, and I felt it was important to represent it as such. I didn't want to make goodies and baddies out of anyone.
"Russell is an interesting and complex character in a difficult situation with some tough choices to make.
"I think we just tried to represent the essence of truth. Of course, you can't include everything in the film, but you do the best you can to represent the essence of every particular moment. It's not always black and white.
"Russell made some choices trying to protect the Sherpas as well. I think we just decided to embrace the shades of grey than being overly simplistic.
"It can't have been easy for Russell to balance the needs of clients and Sherpa at the same time."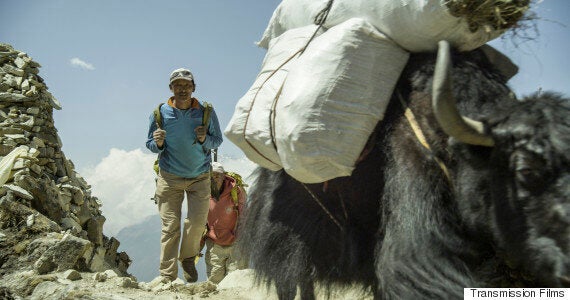 Phurba Tashi Sherpa on Everest.
Morally complex as the situation was, Peedom faced the further ethical dilemma of deciding what was necessary to film, and what was disrespectful.
"You do have these ethical dilemmas. I think we did the right thing to continue," Peedom told HuffPost Australia.
"Though on the day the rescue team were bringing down the bodies, my camera position -- where I ended up -- was on the helipad, right where the bodies were being brought down.
"The minute I realised the rescue was a body recovery I stopped filming.
"I wasn't communicating with the crew at that point -- we were not on radios -- it was still very early in the season. We weren't expecting any of this to happen. I had to follow my own instincts of whether to cover or not to cover.
"But largely, my instinct was to keep going, that this was the story."
Peedom's instincts paid off, as not only has the documentary garnered critical acclaim -- including a BAFTA nomination for Best Feature Documentary -- but was also received well by the Sherpa community.
"I was really nervous about showing them. More than showing it to anyone else I think," Peedom said. "But the way it worked out was really great.
"We had just locked the cut. We hadn't started rest of post [production], but we sent over the film and they ended up projecting it on a sheet in the village.
"Everyone came down and they all watched the film. It's obviously an emotional film for them to watch, it's very, very sad for them to watch. But it was really clear in that first screening that they were happy with the portrayal of events.
"I had many of them say to me, 'I understand why you had to continue. This film is a gift to the Sherpa community.'
"They are very proud of the film, which was a monumental relief."
'Sherpa' opens in cinemas across Australia on March 31, 2016.