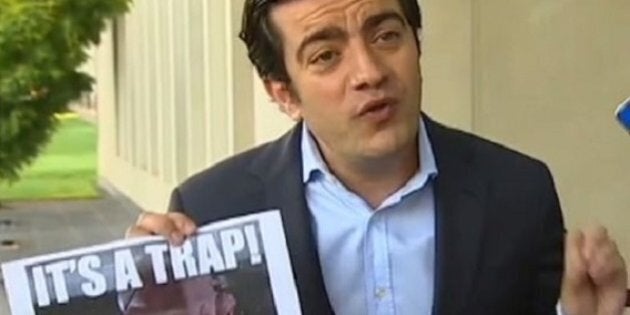 You might know Sam Dastyari more for his antics than his politics. The Labor Senator from Sydney holds up meme images at press conferences, quotes Taylor Swift lyrics in parliament, mocks his opponents with children's books on maths, references the Kardashians and Dr Evil from the Austin Powers movies to describe Malcolm Turnbull, and just last week espoused his fondness for halal snack packs and his favourite kebab shop on the Senate floor.
His strike rate for jokes going viral is envious. If Scott Ludlam is known as the Senator for the Internet, we're dubbing Dastyari the Minister for Memes.
"Let's not pussy foot around here. The criticisms of me are that 'Sam's a show pony, he's very theatrical.' I actually wear that as a badge of honour," Dastyari told The Huffington Post Australia in his Parliament House office last week.
"I try to use the media and social media to get across the issues I care about."
Because while on first glance he appears to be using his role as a Senator to practice for a career in stand-up comedy, Dastyari and his team tell us that the kid's books, the movie references and the Tay-Tay songs are part of a calculated strategy. He hopes the silliness can help drag important but -- in Dastyari's own words -- "incredibly boring" topics like multinational tax avoidance and debt shifting out of the dense political theory textbooks and onto people's social media timelines or on our nation's most popular, populist talk shows.
Getting ahead in politics is no longer just about getting your detailed academic essay or editorial into the pages of a respected newspaper, the Senator says; it's now just as, if not more, important to get a mass of retweets, a stack of video views on Facebook, or a share of your social media post from an influential journalist.
"We have a political class that has been trained in an old media world, all about delivering talking points. If you're just going to to talk the talking points like we used to do 10 years ago, and think anybody remotely cares, you're kidding yourself," he says bluntly.
Dastyari is young. At just 32, the trajectory of his career has justified his nickname, "Dasher." Born in Iran in 1983; emigrated to Australia at age five; President of NSW Young Labor at 22; state organiser of the NSW Labor Party at 25, and its general secretary at 27; federal senator at 30. He made the jump from state to federal politics years earlier than he planned, he told HuffPost Australia; but an opportunity to fill a Senate vacancy came up after internal reshuffling at the 2013 election, and "Dasher" made the move.
It wasn't entirely foreign territory for the now-Senator, though. Dastyari took the Senate spot of Matt Thistlethwaite, his predecessor as NSW ALP general secretary, while he also helped engineer the short-lived installation of former NSW Premier Bob Carr to the upper house in 2012.
The man with possibly the most famous helmet of hair in Aussie politics -- he's been compared to Mr Bean more than once -- has been in the Labor Party for half his life, after joining at age 16. A young gun and old hand all at once, he's watched politicians campaign and argue and grandstand and explain for years, and says the tried and true maxims of political communication are tired and not entirely true anymore.
"You're being kind by saying they're funny. I think they're funny, but a lot of people don't," he laughed.
"[Politicians] have this idea that's completely wrong, where everybody is trained to be a robot, to say the same thing and do the same thing and be the same and behave the same, to just say the talking points of the day."
Dastyari is kicked back on a couch in his parliamentary office, having loosened his tie and cracked open a beer after a long day in the chamber. It's an "ultra low carb" lager, he admits bashfully. He says he's on a diet.
"What everybody is desperate for, is a level of authenticity when it comes to messages in politics. If you want to be the same as everyone, and repeat the same lines, you won't have the opportunity to break through. The challenge is, how do you find alternate ways of talking about the same issues?" he says.
"You talk about different things to get the issue through, you make it interesting for people… we talk about these big issues, but people don't care. Not because they're ignorant, but because they don't have time."
Dastyari's strategy is finding a "soft" entry point to hard issues, or to stand out among the noise. It has worked so far. To make a point about the government's changes to Senate voting laws, he brought a printed copy of the well-known "It's A Trap!" meme -- featuring Star Wars character Admiral Ackbar -- to a press conference.
In the wake of the Liberal leadership spill in September that saw Malcolm Turnbull replace Tony Abbott as Prime Minister, Labor was on the attack. Dastyari's sledge, using lyrics from Taylor Swift songs, stood out from the rest.
A Dastyari staffer was most proud of how they managed to get one of their pet issues, corporate tax avoidance, onto popular Channel Ten panel show The Project. The staffer said the office brainstormed long and hard about how to get media interested in a review of corporate tax, but few would bite… until Dastyari fronted up for a press conference and called out The Project host and comedian Peter Helliar.
"Sam stared down the barrel of the camera and said 'Peter Helliar'... and it worked," the staffer said.
Dastyari's views on corporate tax made it onto TV that night.
But perhaps the best example of Dastyari's "soft entry" strategy is the now-viral video where he referenced his favourite kebab shop and the 65,000-strong Facebook group "Halal Snack Pack Appreciation Society." A halal snack pack is a meal of hot chips, kebab meat and sauce in a styrofoam box, and Dastyari used his kebab adventure as a segueway to address the Senate about a halal food certification inquiry he had chaired, and the abuse toward Muslim people he experienced as part of that chairmanship.
"As part of that inquiry, I experienced hate, vitriol and abuse of a type that I had never experienced before,"
"The state member for Lakemba, Jihad Dib, took me to a halal butcher in the state seat of Lakemba. I had the audacity to post an image of this on my social media and I experienced a type of hate, vitriol and Islamophobic fearmongering that I had never experienced before—a real dark underbelly in the Australian community. It shook me and it surprised me."
Dastyari then went on to talk about visiting a kebab shop in Campbelltown, which he called "the mecca of halal snack packs," and gave a detailed review of his meal. Amused journalists quickly uploaded clips of Dastyari's address to Facebook, Twitter and Vine. One such video has 235,000 views and counting.
"Halal snack packs, whats the real issue there? There's an anti-halal movement, effectively a bunch of Islamophobic bigots who despise the notion of multiculturalism and cloud that with a faux debate about halal food certification," the Senator tells HuffPost Australia.
"It's not about halal. It's like talking about Safe Schools, when what you really want to talk about is that you have an issue with homosexuality. These are faux debates. How do you get that across? You talk about halal snack packs."
Dastyari says he's not belittling the Australian people; just being realistic.
"Politicians live in this bubble where we think other people care about the issues we deal with on a day to day basis, and they don't care... If we're not being relevant to them and their lives, and there's some humour and light-heartedness and entertainment in all that, then you're irrelevant to them. If you're irrelevant, you won't win the political debate," he says.
"[Issues like tax avoidance] are actually really boring. It's incredibly important but incredibly boring. When it's about theoretical concepts, people don't care. The second it became about the companies, when we made the CEOs and executives of big companies front us, under oath, under subpoena threat and explain their tax affairs... It became about something people understand, like iPhones and iPads, and how they affect the tax system."
"If it's the theoretical concept, it means nothing. That's what I've learnt."
As we hurtle toward a likely July election, expect to hear more from Dastyari. And his memes.
"Certainly the media is changing," he tells us.
"But politics isn't changing fast enough."