When Nel Minchin heard that "Matilda the Musical" would be making its Australian stage show debut, she knew what a pivotal moment it would be for her older brother, Tim Minchin who is the composer behind the global smash hit.
"From the public's perspective, Tim's a controversial character. He's quite dark, foul-mouthed, and atheist -- all those things you wouldn't necessarily put with the Royal Shakespeare Company -- nor would you put with a kids musical," Nel Minchin told The Huffington Post Australia.
After all, this was the man behind the viral track, "Come Home Cardinal Pell" which urged Australia's highest ranking Catholic to appear at the Royal Commission into child sex abuse last month.
But Nel, who is nine years Tim's junior merely saw the stage show's homecoming has an opportunity to tell the story of her comedian-turned-musical-theatre export big brother and how, Roald Dahl's classic novel wasn't actually that far removed at all.
"There was a lot of Roald Dahl in our house. I'm the youngest, so there were lots of book hand-me-downs. Matilda was one of the hardback copies we had.
"And we had a piano growing up too, which we sang around -- that was the kind of world we were in," Minchin said.
Minchin began writing, producing and co-directing her documentary film, "Matilda & Me" which delves into the story of how her cheeky older brother from Perth wound up on Broadway and London's West End.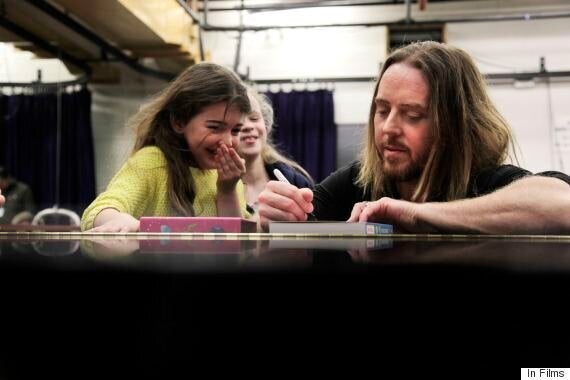 The film reveals how Tim has evolved from loud-mouthed iconoclastic comedian to being Australia's most recognised musical theatre export.
Minchin interviewed the likes of Andrew Lloyd Webber, Mara Wilson from Danny DeVito's film adaptation of "Matilda" and Roald Dahl's wife, Felicity -- at the Roald Dahl Estate in England, no less.
"Felicity was just the most beautiful woman. She had a twinkle in her eye and she was super funky too -- you know, wearing sneakers in her 80s. But also, she was just so open-minded and interesting," Minchin said.
The incredible interview subjects Nel had access to during the filming process lead to an overarching theme of storytelling and also, a reflection on the importance of the arts.
As well as the intimate exploration of how her brother "became Tim Minchin right before my eyes" there was another personal element to the narrative.
Nel, who was pregnant during production -- unaware that she was having a girl at the time -- came to realise just how remarkable and timeless Matilda as a character was.
"This is an amazing story of a little girl for starters, who's not described by what she looks like aside from that she's little. She's not pretty or beautiful or ugly -- but she's brainy.
"She stands up for herself and other people and she's rewarded for being assertive and overcoming bullies. The essence of that story is incredibly powerful," Minchin said.
Minchin said when her little girl arrived shortly after filming wrapped, there were moments of natural anxiety and worry over how she would raise her daughter to feel good about herself, to be confident, smart and not be put down.
"Obviously I've been there, so I know what it can be like -- of course, there's good with the bad but I'll certainly be getting her the book and sending her to see Matilda," Minchin said.
"She'll know all of the music -- she's been listening to it since in vitro! I joke that she knows Tim's voice more than my husband's because of all the long hours spent editing," Minchin said.