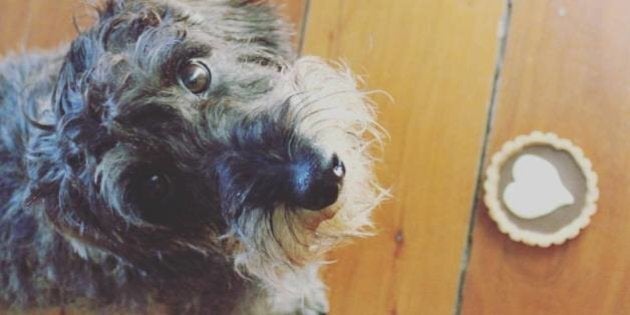 The study also showed that before cutting back on their pet's expenses, 48 percent of pet owners would look at ways to lower their power usage; 47 percent would cut down on their own essentials, 35 percent would use cheaper products and 16 percent would ever consider getting a second job.
So, no matter how you look at it -- pets are big business, and small businesses are cashing in.
Gone are the days of feeding your cat 39c cans of tuna, or throwing your dog a dried up old pig's ear as a 'treat'.
The last few years has seen a whole new breed of small businesses stocking luxury pet products crop up -- doggie spas, cat resorts, and even dog bakeries.
One such bakery is Brisbane small business, Sweet Chops.
An online-only store, Sweet Chops has a range of dog-friendly treats on offer for your four-legged friends including Lolli-Pups, Terrier Tarts, Barkin' Banana and Chia cookies, Melting Mutt Moments and Peanut Butter Biter Bones.
They also have Christmas themed-treats such as O'Howling Christmas Trees cookies, Pooch Pudding and the Gingerhound house as well as Easter bunny cookies and Hound Hunting Easter egg kit.
If that's not enough variety to impress even the fussiest pet lover, small business owner Cindy Werchon has taken the dog barkery concept one step further, offering her customers a range of bake-at-home treats.
She sells kits for two 'pawty cakes', flavours; five flavours of cupcakes including red velvet, white chocolate and banana; and four kits for cookies.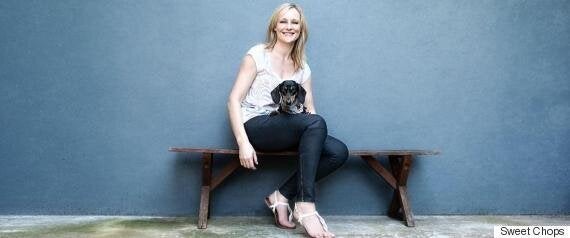 Business founder Cindy Werchon with Sweet Chops' original taste-tester Ralph.
All of Sweet Chops' cupcakes, treats and bake-at-home products are handmade using gluten-free flour, fruit, natural peanut butter and honey, carob, molasses and yoghurt. There's no added salt, sugar, artificial colours, flavours or preservatives.
"I'd been making my own treats and selling them at the markets since (2008) and it got quite popular," she told The Huffington Post Australia.
"People starting asking for the cupcakes online but you can't really send them through the post, so I started making the bake-at-home kits. They're so popular, especially around dogs' birthdays and things.
"I was just selling the cupcake kits for a few years and then I thought I'd go into the bigger birthday cakes and it's just gone crazy. There's so many dog birthdays celebrated now … it's unbelievable. It's so nice that the pets are one of the family."
Werchon said a lot of customers send her photos of the cupcakes and cakes they had made using her kits.
"It's so easy -- you put all the ingredients in the mixer, and you cook it," she said.
"All the ingredients, as well as the icing, the cupcake cases plus cookies to decorate them are all included. The pictures people send to me or post when they're baked them are pretty cool. I'm pretty stoked how great they look, they have really lovely designs, it's lovely to see."
Happy Sweet Chops customers send Werchon photos of their bake-at-home creations.
The idea for the bakery came after Werchon spotted a gap in the pet food market.
"There just wasn't anything around like this at that time," she said.
"At the markets, people took their dogs, but there wasn't anything for dogs at any of them, so I decided to try something different."
Werchon said there was a lot of trial and error -- and taste-testing -- to make sure the products were tasty.
"I did lots of baking, to get it right," she said. "I'll eat them too, because any of these you can eat yourself. And if it's OK then I'll try it on my dog and if he likes it I know it's good."
She said one of the most difficult parts of starting her small business was trying to determine a realistic profit margin.
"It's really hard to get that right with a business like this," she said.
"You need to buy ingredients in bulk, especially for wholesale orders, and making sure you're making enough profit is quite difficult."
She said the proof of a good product was in the pudding, and her repeat customers were testament to a good product.
"I have a lot of customers that come back which is really good. They'll buy something small then come back for the festive season or for a birthday party or something like that."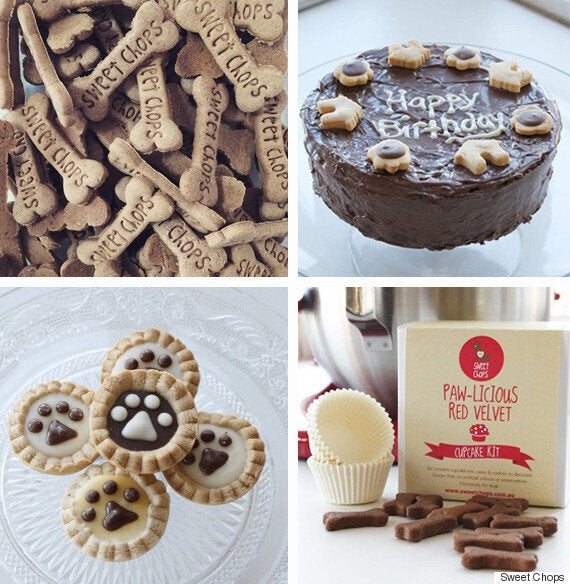 Some of Sweet Chops' range.
Hodson said her business has grown to the point she needs to move from her home kitchen to a commercial kitchen to cope with wholesale orders.
"I do it all from home except with those big orders, and I have a lady come and help me with the packing for those bigger orders as well. I have about 20 retail stores Australia-wide that stock the products now."