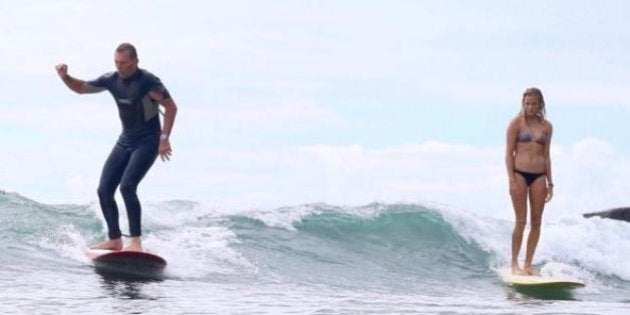 A 17-year-old girl picked up a surprise surf partner over the weekend, with former Prime Minister Tony Abbott dropping in on her wave at a quiet Noosa beach.
Ivy Thomas posted a photo of her brush with the dumped Liberal leader on Instagram on Monday night. Several thousand likes later, Thomas' side-eye glare at the former PM has shot around the world, but she said it was "awesome" to share a wave.
"In the photo I look really upset, I didn't know how to react," she told The Huffington Post Australia.
"But it was awesome. He was talking to everyone, cheering people on waves. He's actually a good surfer. I was expecting worse."
Thomas, from the Gold Coast, said she travelled to Noosa for the Easter long weekend. She had paddled out on Tea Tree Beach, where the gossip on the water was that Abbott had been in the area.
"One of the locals said they saw him [on Sunday], but I didn't believe him, it was so weird that he'd be there. Then I paddled out, and he was just sitting there. It was ridiculous," she said.
"He was talking to some of the local guys about surfboards and fins. It was awesome to see that he's a normal person like everyone else."
Abbott was spotted elsewhere on the Queensland coast over the weekend, snapping this selfie with locals.
Since posting her photo, Thomas has caught the attention of national newspapers and radio stations; she had only just finished up a chat with Triple J when we caught her on the phone.
"I put the photo on Instagram as a laugh with my friends. I don't know how so many people found it. I was expecting a little laugh, now all the newspapers are into it," she laughed.
And as for her accusation that Abbott had "dropped in" on her wave, committing the cardinal sin of surfing? She didn't mind too much.
"I was on the wave first, I was on his inside. But I got plenty of waves, I didn't mind sharing," Thomas admitted.
"He did take off, it should have been my wave, but I wasn't going to call him off it or anything."