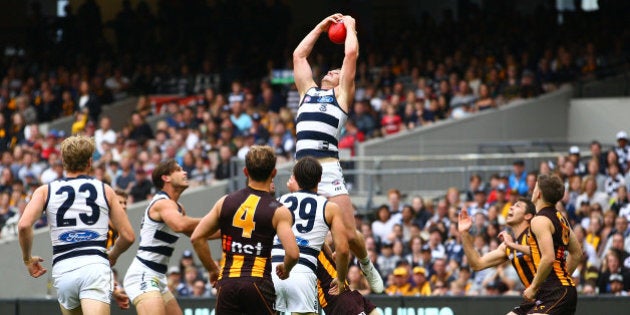 Hawthorn is vincible. They can be vinced. Those are not actual dictionary words but you get the point. Hawthorn is not invincible. This we know after the three-times-on-the-trot AFL premiers were ambushed by Geelong on Easter Monday.
Patrick Dangerfield. You'll read that name a lot today. He's the ex-Adelaide Crow who in the off-season returned to his native Victoria and signed with the Geelong Cats. What a day out the 25-year-old had. They're calling it the best debut for a new club ever. In a pulsating game, Dangerfield was the difference. Oh, and he did this. (You can watch the video here.)
Carlton didn't suck. That was another pleasant and unexpected lesson from the weekend as the AFL season kicked off on Thursday night. The Blues lost narrowly to Richmond. Who knows what might have happened if their players had used both their hands?
Seriously, what a weekend of footy. Buddy bounced back to his best as the Swans trounced Collingwood. The Melbourne Demons had a last gasp win over the Giants, thereby proving that evil mythical creatures will always beat friendly ones. The Western Bulldogs absolutely smashed the Fremantle Dockers, the team many had tipped for the flag, and whose coach said they played like they were taking a "Sunday stroll". Meanwhile Essendon were as hopeless as everyone hoped/feared in losing to the Gold Coast Suns.
But the NRL didn't just sit there and go oh no, AFL's back and it's really entertaining. Almost every match was a cracker, beginning with the grand final replay in which the Broncos reversed the pain, beating the Cowboys in extra time with a field goal just as North Queensland had done to them back in October 2015. But should we have even been in extra time? Was Johnathan Thurston denied a fair try?
Another Queensland team, the Gold Coast Titans, seemed to be the beneficiaries of a try that wasn't as they beat the Raiders. Hands up who else secretly thinks we love controversy more than the actual footy? Meanwhile the Sydney Roosters remain winless after four rounds as the Mitchell Pearce karma factor continues to kick in.
In football, this happened.
Now on any other day, that would be one of the most stunning backheel goals you've ever seen. But in a friendly between England and world champions Germany (not that things are ever so friendly between those guys), when England had been down 0-2, and when this was the moment that made things 2-2 (England went on to win 3-2), then this really was the most stunning backheel goal you've ever seen. The scorer was Jamie Vardy, the man spearheading Leicester City's surprise push to the EPL title.
Jason Day. Great guy, even better golfer. He's world number one again after winning for the second consecutive week on America's PGA Tour. Day injured his back during his first match in the World Golf Championships-Dell Match Play -- a unique tournament where you play head-to-head against other golfers in an elimination format.
"Four [members] of my team tried to talk me out of [playing]. I wanted to win so bad and I felt with how I was playing, if I kept playing the way I was, I would be holding the trophy at the end of the week."
The question is, has Day compromised his chances in the Masters in two weeks? His problem is a bulging disc. Interestingly, Day said that pro golfers take about a million swings over the course of their careers, so sooner or later "something is going to happen". Here's one of those million. For the record, he hits his drives about 350 metres, which is the length of three-and-a-half football fields.
Here's another question. Did 15-year-old Talia Martin deliberately run slowly the race before the prestigious Stawell Gift sprint on the weekend? Here's what race stewards said:
"It is like, in the horse racing game, getting beaten in a maiden at Pakenham and 12 days later wining the Cox Plate or something," said chief steward Brian Marantelli.
"In our sport that is called improvement of extreme range. Extreme range stops at four metres so she was well off the chart for improvement in a short space of time."
Wow. These are not soft words. The Stawell Gift is an event on which people bet. This has been the case since long before the advent of legalised sports bookmaking in Australia the 1990s. In events like this, it's not unheard of for a runner to go slowly in lesser events, thereby inflating their odds in their next race. However no suspicious betting patterns were detected. The winner put her poor lead-up run down to sadness at the death of her Auntie "Barb".
And the best thing we saw this weekend? This.
Oh, and there was also cricket. But we're not talking about that. But if pain is your thing, you can watch highlights of Virat Kohli's devastating innings that knocked Australia out of the World T20 here.