ASSOCIATED PRESS
An open letter calling on Chinese leader Xi Jinping to resign and a subsequent crackdown on dissidents could be read as a sign of unease at the top of the country's leadership.
Chinese authorities have reportedly arrested more than 20 people and detained family members amid a campaign of intimidation sparked by a letter to the country's leader, Xi Jinping.
The open letter, signed by "loyal communist party members" and posted to the government-backed website Wu Jie News earlier this month, accuses Xi of leading a personality cult and of committing economic and foreign policy blunders.
The letter — which was quickly deleted — sparked a hunt for the authors, with at least 16 people from the news site reportedly arrested, as well as their friends and associates.
There are also reports nine technicians working for a technology firm that provides support to Wu Jie are also missing.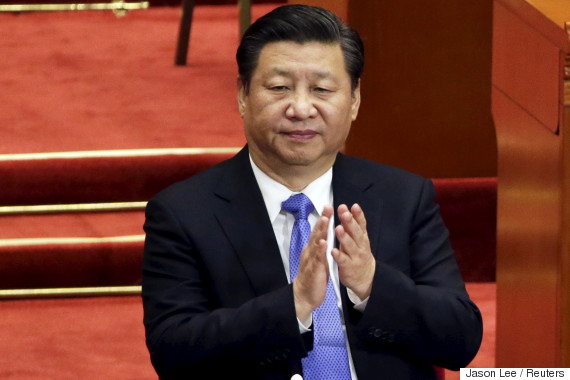 China's President Xi Jinping claps during the closing ceremony of the Chinese People's Political Consultative Conference (CPPCC) on March 14
Amnesty International has called on authorities to release those detained, saying the crackdown on family members of dissidents is draconian and unlawful.
"The persecution of family members of dissidents is a draconian and unlawful tactic that makes a mockery of China's claims to respect the rule of law," said William Nee, China Researcher at Amnesty International.
The letter and the reaction to it could be read as dissent at the highest ranks of China's Communist Party, said Associate Professor Chongyi Feng, a member of the University of Technology's China Research Centre.
"There is division or infighting at the top of the leadership, and that letter can be seen as one of the major gathering points to lay down the accusations against Xi and gather the support in the cause to resist Xi," he told the Huffington Post Australia.
Former supporters of Xi who allowed him to amass power were now trying to block him, but Prof. Feng said an attempt to topple the leader was unlikely.
He said the word "contain" should be used with caution, and there is no clear or unified coalition against Xi.
"This kind of dissenting voice is the symbol, they are now determined somehow to block Xi from becoming a despot or a dictator, like Mao before," he said.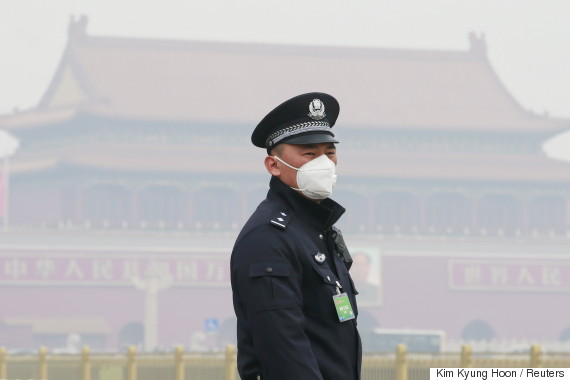 A policeman, wearing a mask to protect from severe pollution, secures the area near the Great Hall of the People ahead of the Chinese People's Political Consultative Conference in Beijing on March 3
After the letter was published in early March Chinese blogger and government critic, Wen Yunchao, who lives in New York, said his 65-year-old mother, 72-year-old father, and his younger brother were taken away by police in Guangdong province, southern China on March 22.
Wen Yunchao was then contacted by his father and brother, who pressured him to disclose what he knows about who is behind the letter critical of Xi, and who helped spread the news about the letter, Amnesty International said.
Wen Yunchao maintains that he does not know who is behind the letter or that he had any involvement in its publication.
Future of China's Wujie Media in doubt after letter calling on Xi to quit: https://t.co/kNf1KWSvbqpic.twitter.com/6nbc3A7xGr

— WSJ China Real Time (@ChinaRealTime) March 28, 2016
Germany-based journalist Chang Ping said authorities had detained his two younger brothers and a younger sister.
"Around noon on March 28, Beijing Time, police in my hometown Duofu Township, Xichong County, Sichuan province… released one of my brothers Zhang Wei, telling him that, if he succeeds in contacting me, he should pass on three demands by the police and, in return, the police would release Zhang Xiong, my other brother" Ping wrote on the website chinachange.org
"The reason the police station gave for detaining my family was that when they went to sweep the ancestral tombs, their firecrackers happened to burn some of the plants and vegetation in the vicinity.
"After they were detained, the interrogation was mostly about me and my work. Given that the case was handled by Domestic Security, it's clear that it's a political case."
On 15 March, Beijing police detained well-known columnist Jia Jia who had been in discussion with the editor of Wu Jie News about the content of the letter.
Eleven days later Jia Jia's lawyer said the columnist had been freed, had met his wife and could return home anytime.
With Hong Kong booksellers silenced, China now goes after exiled dissidents https://t.co/QkG5zlx8iu With my comment: pic.twitter.com/EABVr78vn1

— William Nee (@williamnee) March 28, 2016
The wave of detentions is the latest in a series of crackdowns in China.
Property tycoon Ren Zhiqiang had his Weibo account deleted and was attacked in state-controlled media after he lambasted a recent media tour by Xi, suggesting that he was allowing the Party's needs to trump those of the people.
Last year five Hong Kong booksellers disappeared, including a Swedish citizen and a British citizen, who published gossipy books critical of senior Party figures, including Xi, and allegedly exported the banned books into mainland China.