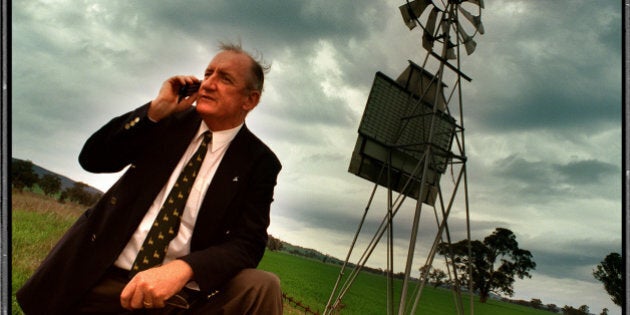 Former Deputy Prime Minister Tim Fischer has emerged from bushland in Victoria's northeast, having spent a cold night in the elements after a bushwalking trip gone wrong.
Fischer, deputy PM to John Howard from 1996-99 and leader of the Nationals from 1990-99, retired from federal politics in 2001 and acted as the Australian Ambassador to the Holy See between 2008 and 2012.
He has been quiet as of late, but the Vietnam War veteran re-entered the spotlight on Wednesday after reports that he had become lost in the bush on Tuesday night. Melbourne radio station 3AW broke the news, and soon had Fischer on the phone to tell them the tale.
"I didn't keep enough daylight, so decided I would walk out safely in daylight in the morning," Fischer told 3AW.
"I knew I was in the right direction but hadn't allowed for two kilometres of sharp descent. I was five kilometres short. Had I not lost my glasses and gone back looking for them in the early descent, I would have been OK."
Fischer said he had gone for a walk on Mount Jack, in the north-east of Victoria. He said it was "a beautiful climb with a track running north-south", and that he could see his family farm from the climb. Unfortunately, he said a misjudging of the time needed for the return journey meant it soon became too dark for him to continue walking.
"I had an Akubra, a coat, I had one apple left. It gave me sufficient nourishment. I ate it in quarters," Fischer told 3AW.
"It was a bit shivery, my phone faded, but all's well that ends well."
Fischer said he alerted his family to his plan to stay in the bushland overnight, and that they should not send out a search party. At first light, he walked down the track and returned home.
"I lost weight, got a few scratches... I lost four pounds overnight, two kilograms," Fischer claimed.
"I stuck with Plan A, walked safely out, found the creek bed and track I was looking for."
Hear Fischer's full interview on 3AW here.