Mark Kolbe via Getty Images
The Sydney Roosters' season has been rubbish so far. So on the weekend, they called in the garbage man.
His name is Eloni Vunakece and he made his first grade debut against Manly aged 28 after collecting rubbish all week for his local council. Yep, Eloni Vunakece is a garbo.
His story is remarkable. Each morning he does the run in Sydney's Leichhardt Council region. Then off he goes to training. Vunakece has two children with another on the way so there's not much time for anything else.
What makes his story even more inspirational is that Vunakece has been turning up at every training session even though Roosters coach Trent Robinson only expected him to show up once a week.
"I was initially training once a week. I'd just been given a fulltime job and I didn't want to leave my job but it worked out well with footy timing wise and Robbo was happy to accommodate me," he told Fox Sports earlier this week.
Vunakece earned a $3,000 match payment for his efforts on Saturday. Had he played for his regular team Wyong -- in the lower tier Intrust Super Premiership NSW -- he would have earned just $600.
Vunakece is on a second-tier deal with the Roosters worth just $50,000. Clubs typically have several players on such deals who are not expected to make first grade appearances but hey, you never know.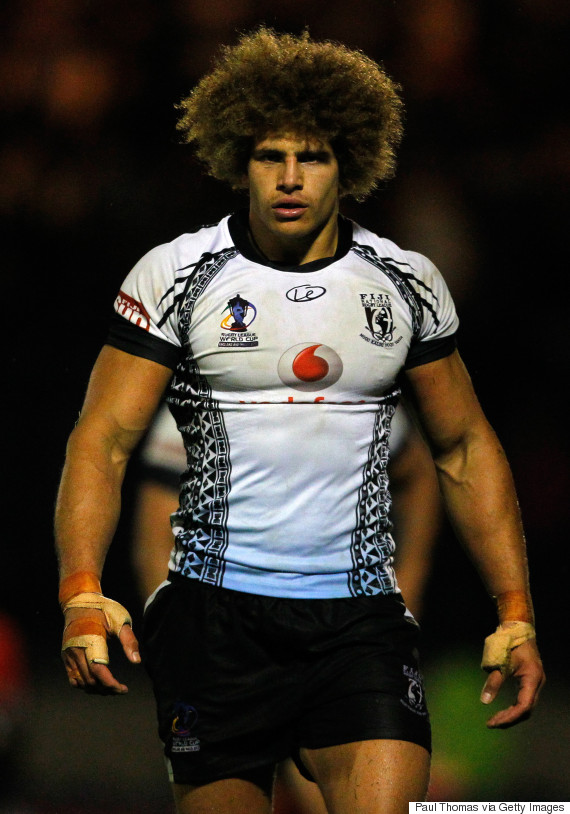 He's no 'has bin'. Vunakece playing international rugby league for Fiji in 2013.
The Sydney-born prop has again been named in the Roosters squad for this weekend's match against the New Zealand Warriors. But does having a full time job hurt his ability to compete in this toughest of professional sports? Not if history is any guide.
Rugby league has had several high profile garbos in its past, including Melbourne Storm winger Matt King, but none more celebrated than Olsen Filipaina. He's 58 these days and still a garbo after 35 years. Filipaina played for the old Balmain Tigers in the early 1980s., His story was memorably captured in a Guardian piece, which was the best rugby league yarn we've read in ages.
Filipaina was plucked from reserve grade to play a three Test international ruby league against Australia, and was named man of the series. He always attributed his fitness to the garbage run. But you sense it helped his state of mind too.
Filipaina was racially sledged by crowds for years playing in Sydney and shunned by opposition players and at times even his teammates. Yet he never blew up. He just went to work each day and played football as hard as he could, all the while maintaining a quiet dignity of the sort so many working men possess.
Perhaps Vunakece could entice his disgraced teammate Mitchell Pearce -- who is on a salary in the vicinity of half a million dollars a year -- out on the garbage run a few mornings a week. That might stop some of the trash talk.
Meanwhile there's speculation Vunakece's next contract could secure something like $120,000 a season. It'd be nice to have that sort of cash in the can. Though for now, his manager is keeping a tight lid on the details.