Just when you thought you had finally recovered from the last 'Wolf Creek' installment, Australia's favourite fictional serial killer is back... and he's coming straight into your living room.
In a new six-part original series for Stan, John Jarratt will once again step into the boots of the iconic outback killer Mick Taylor, complete with his equally iconic truck, dirty flannel shirt and penchant for unsettling humour.
In the first full-length trailer for the series, things are not looking good for a family of American tourists who have stumbled into Taylor's web. (When asked what he does for work, Taylor replies, "I shoot pests. Pigs, donkeys, camels, tourists..."). What he doesn't count on is the escape of 19-year-old Eve (Lucy Fry, 'Vampire Academy') who vows to get revenge.
Could it be Mick, the indestructible outback predator, has actually become prey?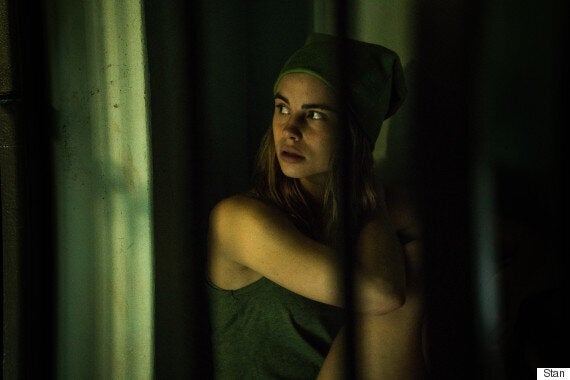 Lucy Fry in 'Wolf Creek'.
Jarratt and Fry are joined by a swag of local acting talent, including Dustin Clare ('Strike Back', 'Anzac Girls'), Deborah Mailman ('Redfern Now', 'The Sapphires'), Miranda Tapsell ('Love Child', 'The Sapphires'), Jessica Tovey ('Dance Academy', 'Home & Away'), Jake Ryan ('Wentworth', 'Fat Tony & Co',) and Richard Cawthorne ('Catching Milat', 'Bikie Wars: Brothers in Arms').
The series is directed by 'Wolf Creek' creator Greg McLean and Tony Tilse, and is produced by Peter Gawler and Elisa Argenzio. The executive producers are Greg Haddrick and Greg McLean with Jo Rooney, Andy Ryan, Nick Forward and Rob Gibson.
In case you have forgotten just how spooky the original 'Wolf Creek' was, you can check out the trailer below.