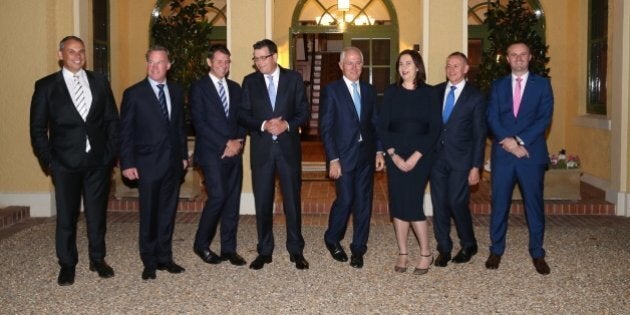 The big Council of Australian Government (COAG) meeting is on in Canberra, with Prime Minister Turnbull hosting state premiers in the nation's capital for their regular pow-wow on how things are working between the various levels of government. Turnbull welcomed each state leader to his Canberra home, The Lodge, on Thursday night -- and that's where it got awkward.
First, Turnbull personally met each premier outside his home, saying hello and posing for photographs. Unfortunately, he forgot ACT Chief Minister Andrew Barr; the poor guy was met by nobody, having to tentatively and awkwardly fumble around for the right door to enter.
Then, Turnbull and the premiers took a school class photo outside The Lodge. Pretty standard stuff. Unfortunately, it was arguably one of the most awkward-looking photos ever taken in Canberra.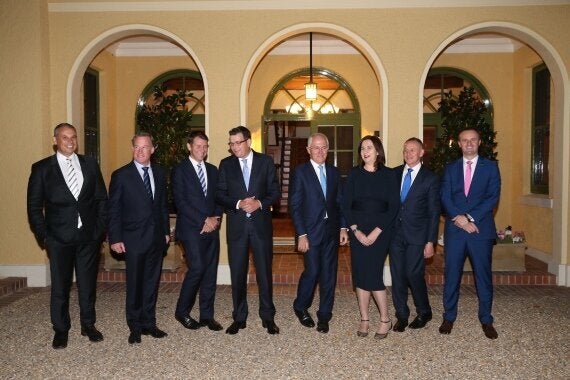 Only half of them are looking at the camera, the other half look like they're busting for a toilet break or busting a dancefloor move. What is happening there?!? The weird stances and almost curtsey-looking positions didn't go unnoticed, after Fairfax photographer Andrew Meares posted the picture to Twitter.
Things may get more awkward still for the PM, as he tries to sign up defiant premiers to his radical plan for the states to collect income tax directly, rather than the federal government collecting tax then distributing it to the states. A series of subsequent Turnbull plans, including reforms to Medicare and moves toward the federal government removing itself from funding of the public education system, depend on the outcome of the income tax issue.
Already, premiers from at least four states have come out against the plan; not a good start for a PM looking to enact what he calls "once in several generations" tax reform.
"This is Malcolm Turnbull's tax plan -- a blank page," said Queensland premier Annastacia Palaszczuk.
"Because that is what we are expected to discuss at the COAG briefing on Friday, where the states have been provided with absolutely nothing -- no detail, nothing."
"If they want to give all of the income tax to the states, yes, we'd be more than happy with that. And then we wouldn't need a federal government would we?"
Victorian premier Daniel Andrews said, "Calling this a thought bubble would be kind. I don't think this has been thought through, I don't think this has been examined properly."
South Australian premier Jay Weatherill said the proposed system "wouldn't be practical" and he "couldn't imagine a state would be interested in doing that," while Tasmanian Premier Will Hodgman said the small size of his state meant the system "would disadvantage us against other states."