Opera Australia
On Thursday Opera Australia's Handa Opera on Sydney Harbour returned to Mrs Macquarie's Point, Sydney. Their latest production, Turandot, is a Chinese fable of a death-marked love.
Set against the iconic backdrop of Sydney Harbour, the stage is set with a stunning feature piece -- the mythical Chinese dragon. Created by event construction company Staging Rentals and Construction (SRC), the dramatic sculpture, which drapes around the entire stage, measures 60 metres in length and weighs approximately four tonnes.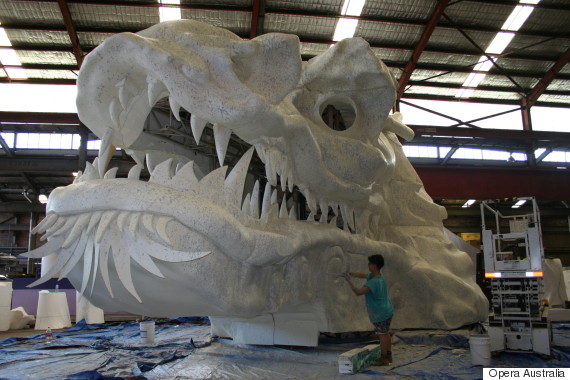 Designed by theatre and film designer Dan Potra, the team at SRC had the tricky task of bringing Potra's vision to life. Over four months they used a German-imported robotic arm to build the sculpture -- the first time this piece of machinery has been used in Australia to create something of this magnitude.
"The Robot" as it is affectionately known, was employed in the first stage of the carving process of the dragon, with the second stage of carving being completed by hand using a combination chainsaws and hand tools. The dragon sculpture took more than 1,000 man hours to carve.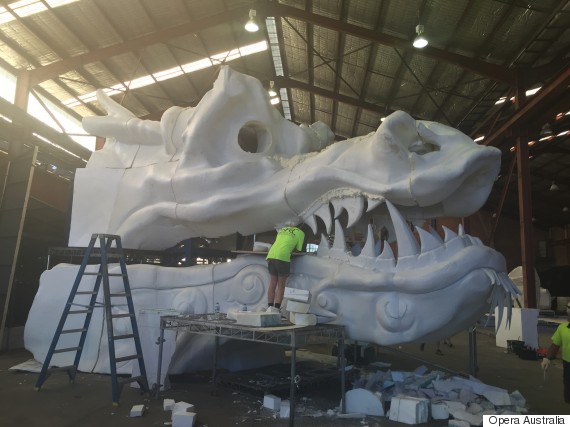 "The whole team at SRC was excited to conceive and then build another sensational talking point for the Handa Opera on Sydney Harbour stage. The giant head for Aida was carved entirely by hand but we realised that the more complex Dragon would require something a bit more precise and hence the 7 axis robotic arm," said David Comer, Managing Director of SRC.
"It was a massive undertaking and this year the use of The Robot ensured incredible precision. It is a valuable addition to our production process and its capabilities are second to none," Comer said.
Turandot runs until the 24th of April. Information and tickets on the website.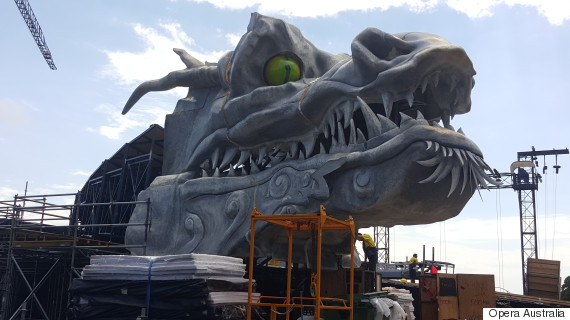 Visit HuffPost Australia's profile on Pinterest.