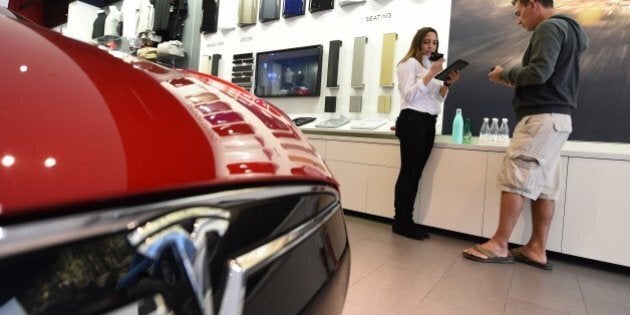 Tesla is set to unveil its latest electric car -- the Model 3 sedan -- during an event at its design studio in California on Friday.
And with a price tag of $US35,000 ($45,668 AUD) -- or about half the price of the next most expensive car in the Tesla range -- the new machine could shake up the EV market worldwide, and in Australia, significantly.
Pundits have described the Tesla 3 as the most important electric car ever made -- saying the low price of the vehicle could increase the penetration of EVs into the general car market.
They say what makes it different to other EV cars with a lower price tag, like the Nissan Leaf, is that Tesla is dedicated to rolling out supercharger stations around countries.
That means as more of the cars are taken up, the open patent charger network grows -- a network that's vital if the widespread use of EVs is to become a reality.
While Tesla has remained tight-lipped about the features of the vehicle, we know it's going to be smaller than the Model S and should be able to travel more than 300 kilometres on a single charge.
That expected charge-to-distance ratio will easily see you from Sydney to Goulburn, where a Tesla supercharger will pump your vehicle full of juice in minutes, rather than the hours it takes through an ordinary outlet.
People around the world have been lining up in their thousands just to get their name on a pre-order list for the car -- laying down $1500 for the pleasure, too (though the money is refundable).
In Sydney and Melbourne, smaller groups of about 50 have been reported, with some lining up for days to get their foot in the car door.
Tesla's vehicle venture, headed by tech guru and billionaire Elon Musk, launched in Australia in December 2014 with the Model S sedan.
The Tesla 3 is set to be released in late 2017, but Australian buyers should expect delays as the rollout typically starts with the U.S.