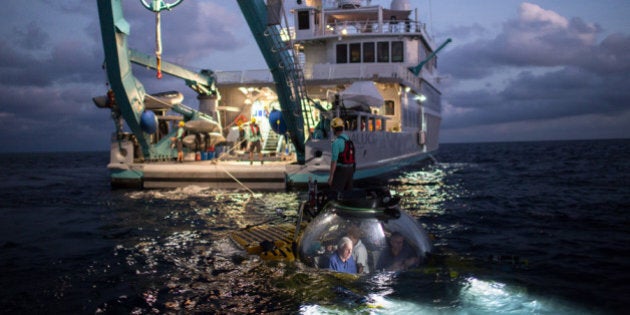 Collaborating with a living legend like Sir David Attenborough is impressive, but sharing bunk beds and swapping tales into the wee hours of the night is just ridiculous.
"We were like two schoolboys laying on our bunk beds talking all night," Geffen said.
"It's a funny thing really, there weren't enough cabins [on the boat] and I know David well, but to share a cabin? I grew up thinking he was one of the greats and here we were working on equal footing and sharing a room.
"He's a navy man, so straight away he said; 'Righto, you've got the top bunk, this shelf is mine, this shelf is yours', actually it was very funny seeing that side of him."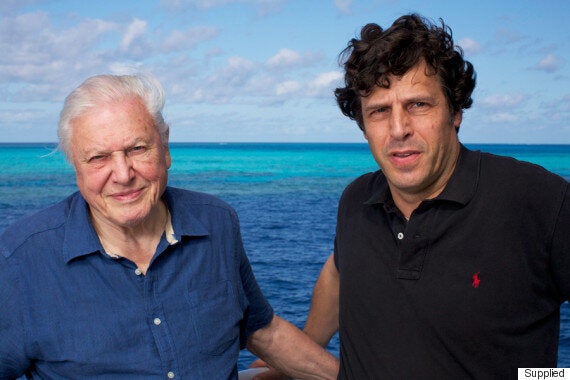 Collaborators and one-time bunk mates Sir David Attenborough and Anthony Geffen.
They found themselves there, cruising above the reef because of a conversation they'd had several years earlier.
"David and I had worked together on 10 projects and I asked him was there one place he'd like go. This is a man who has been everywhere around the world and he immediately said 'the Great Barrier Reef'.
"He thought that throughout his career, this was the most fascinating place he'd been."
Attenborough first arrived on the reef in 1957 and filmed a scuba dive with a wind-and-crank camera. It was cutting-edge technology for the times, and Geffen said that leading spirit was still with him today, but cutting edge now means submarines and ocean-mapping satellite technology.
"It's a very special series for him to be able to go back to this place he cares intently about," Geffen said.
"The submarine meant he could dive the reef again, but to go deeper than anyone has ever gone on the reef before."
The ensuing footage spectacularly captures curious manta rays, the surprisingly flamboyant courting dance of a mantis shrimp and mysterious coral spawning events all filmed over two and a half years.
As will all Attenborough documentaries, it takes conservation messages we've all heard before but delivers them with such skill that it hits with a devastating clarity. Geffen said all the crew felt that impact as well.
"There is no doubt that when you're there with David and you get access, seeing the reef in ways others never get to see, it leads to some very difficult conclusions," Geffen said.
"It's a very powerful place but when you're there you realise it's very fragile and we could be on the edge of losing it.
"In the 60 years since David visited, he saw the changes."
Geffen said David was also cognisant of the changes in modern media, and the fact that many young people don't watch television at all any more, so they have also created an interactive website and a series of immersive, interactive experiences.
"He started in black and white, and then he went to colour, then HD, and 3D and now interactive immersive experiences," Geffen said.
"David may be nearly 90 but I always feel he is really about 45. You look into his eyes and he's got the energy and curiosity of a much younger person. That's what leads him to be the person he is."
Following the series premiere, The Making of David Attenborough's Great Barrier Reef will air on iview from 8.40pm.