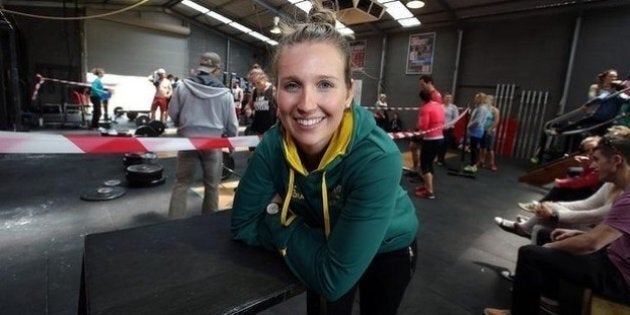 Melissa Tapper made history this week. The 26-year-old Melburnian became the first Aussie to be selected in both the Australian Olympic and Paralympic teams.
Tapper has a condition called brachial plexus. In plain English, it means she was born with nerve damage that severely affects the use of her right arm. But hey, you should see her play table tennis with her left.
Tapper, from the Victorian town of Hamilton, competed in table tennis at the London 2012 Paralympics. But she's just been selected for both singles and doubles at Rio 2012 by virtue of winning the recent Oceania Championship. Here's the moment that happened.
We caught up with Melissa this week and started, as ever, by asking the big questions.
Ant: Hi Melissa. We start by asking every sportsperson this. Who would win a fight between a kangaroo and an emu?
Melissa: A kangaroo for sure. Don't they wear boxing gloves?
Ant: Well maybe in cartoons or something but not in the actual bush.
Melissa: Well I still think the emu would have no chance, not from the kangas I've seen, and I've I seen some pretty big ones.
Ant: OK how about this one. Your husband [Simon Gerarda] played table tennis at Sydney 2000. Who would win a game of table tennis between you and him?
Melissa: He would hands down. He's a freak of nature. He's very good.
Ant: But I believe he's 34 and you're 26. You've got eight years on your side.
Melissa: I know but he's very impressive. He's not in the form he was back then, but for a person who hardly ever picks up a bat, he's very impressive.
Ant: Hey that reminds me, do I call it a bat or a racquet or a paddle? What's the deal there?
Melissa: I switch between bat or racquet. Not a paddle. It's definitely not a paddle. I'm not a kayaker.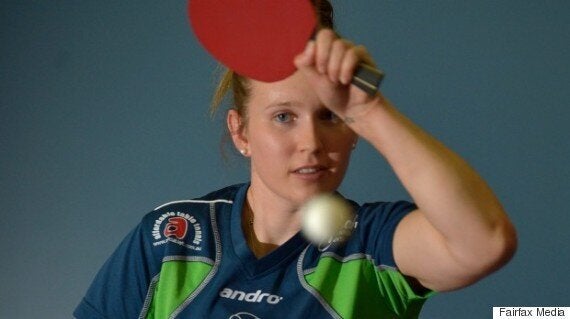 This object is not an oar.
Ant: What about the name of the sport itself. Can I call it ping pong instread of table tennis or am I just being silly?
Melissa: You can call it whatever you like. I call it table tennis. Ping pong is actually a different game where you have to hit the ball into the table before it crosses the net like when you serve.
Ant: Hang on, you mean the terms are not interchangeable? Ping pong is technically a different sport?
Melissa: Yep. I'm 90 percent sure of that.
Ant. Wow. Mind blown. So I've been watching highlights of you on YouTube. You're really good. How'd you get so good?
Melissa: A lot of practice and very good coaches.
Ant: And I take it you met your husband through table tennis? Was it like: 'ooh, who's this handsome bloke hitting the ball like a dream'?
Melissa: Let's just say I've known him for a long time.
Ant: I'll let that one go. So do you guys have a table in the garage like everybody else?
Melissa: No, we live in a small townhouse in South Melbourne so we don't have one at home. I train on-court four to five hours a day, six days per week, at a training centre five minutes from home.
Ant: Wow. What else do you do to train to Olympic standard?
Melissa: I do four to five weekly gym sessions. Two are strength and conditioning, two are speed and power.
Ant: So are you feeling speedy and powerful in the lead-up to Rio?
Melissa: We've had a good lead-up so far so it must be working for me.
Ant: I assume you have to hold down some sort of job as well.
Melissa: Yeah I do two part time jobs, one at the reception desk of the VIS [Victorian Institute of Sport] and another doing trust accounting.
Ant: You must be good with numbers.
Melissa: No. I question my boss every day why he gave me the job, but hey, I'm still doing it.
Ant: What does it mean to you being the first Australian to compete at both the Paralympics and the Olympics?
Melissa: It hasn't really sunk in yet. I set two goals I wanted to achieve and the rest is all just an added bonus.
(Here's Melissa talking about life in 2014 after being selected for the Glasgow Commonwealth Games)
Ant: Every single Olympic women's table tennis gold medalist has been Chinese since the sport was added to the Olympic program in 1988. Are you the one to break the sequence?
Melissa: Look, I'll give it a go but I think it might be a while down the track before I really challenge them.
Ant: But you're also going to compete in the Paralympics afterwards, right?
Melissa: Yep and I'll have more of a chance there. I've got a world ranking of number 4 so I'm hoping to get onto the podium.
Ant: We think you're a winner no matter what happens Melissa. Thanks for talking to The Huffington Post Australia. See you in Rio.