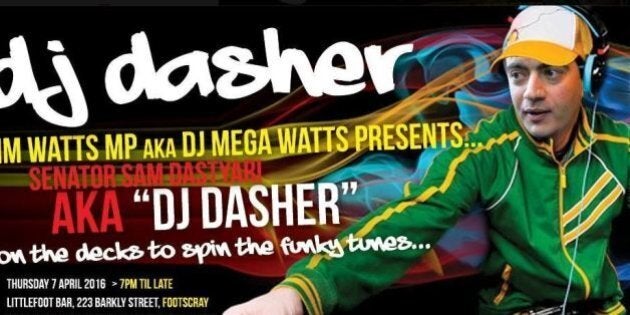 When politicians take to the podium in front of a crowd, it's usually to deliver a speech or take questions -- not to drop some sweet dancefloor club bangers.
Labor politicians Tim Watts and Sam Dastyari are holding a party event of a different sort on Thursday night in Melbourne, taking over the Littlefoot Bar in the Melbourne suburb of Footscray, for a powerful night of tunes under the pseudonyms DJ Mega Watts and DJ Dasher -- and we can report Watts' setlist is fire.
"Senator Sam Dastyari is going on the decks to play you and your mates some fresh tunes in Melbourne's West," reads the teaser for the event.
Watts told The Huffington Post Australia that he would be supporting Dastyari, the NSW Senator, on the night, and even provided us with a sneak peek at his set list -- complete with a few sneaky digs at the Coalition government, a few of his personal favourites, and even a shoutout to legendary Labor PM Gough Whitlam.
"Most nights, DJ MegaWatts is just Dad Watts these days so I've taken the licence to work the dad jokes hard for songs on the 'MegaWatts' theme," Watts said, nominating 'Atomic' by Blondie, 'Danger! High Voltage' by Electric Six, 'Thunderstruck' by AC/DC and 'She's Electric' by Oasis.
"All great songs and better puns. In this cause 'Turn Down for Watts' is definitely the MegaWatts party/pun anthem for the night."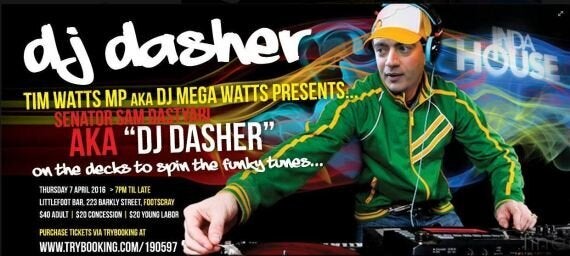 We've assembled a Spotify playlist of Watts' perfect party bangers, but here the MP explains his eclectic music choices; some of his own favourites, some not-so-subtle digs at his political opponents. For more info on the event, click here.
'Mo Money, Mo Problems' -- Notorious BIG
This one's a shout out to Scott Morrison who's currently finding out that being the money man for the government is a lot more difficult than it looks. I'll always remember this song as being the big hit from the album that my high school friends and I played the entire summer after graduating as the soundtrack to endless games of GoldenEye on N64 and backyard basketball.
'Don't Believe the Hype' -- Public Enemy
This one's dedicated to Malcolm Turnbull. I'm fairly sure I'm the only MP who's quoted Flavour Flav in Parliament. So I've got that going for me.
Being in my early 30s means that I usually feel pretty young at Parliament House, but the shoe's on the other foot when I get along to the Laneway Festival in Footscray in my electorate every year. Chrvches were my favourite set from this year's festival. Embarrassingly, I was complaining about being too old and tired to make the most of them closing this year's festival, only to have a branch member who lives on the Laneway site raving to me about how good their set was the next weekend. He's in his 70s. That's Footscray.
'Hot Chilli Woman' -- Noiseworks
I have a slightly disturbing memory of doing the 'yeah, yeah' backing vocals to a Karaoke rendition of this song performed by a former Minister at a Labor fundraiser many years ago. It seemed like a good idea at the time. It's that kind of song.
'I Like Your Old Stuff Better Than Your New Stuff' -- Regurgitator
A mainstay of I don't even know how many Big Day Outs of my hither and yonning golden years. The 'Gurge are reflective of that brilliant renaissance of Oz-Alt music in the 90s (ie my teens!). But ultimately, yeah, this is really just another excuse for a Turnbull shout-out.
3. Danger! High Voltage – Electric Six
5. Let's All Turn On – Hoodoo Gurus
7. Turn Down for What – DJ Snake & Lil Jon
8. Don't Believe the Hype – Public Enemy
9. I Know You Got Soul – Eric B & Rakim
10. Mo Money, Mo Problems – Notorious BIG (ScoMo shout out)
11. Not Afraid of Romance – Machine Gun Fellatio
12. Talkin' all that Jazz – Dimitri from Paris
13. Lust for Life – Iggy Pop
14. Digital Witness – St Vincent
16. Been Caught Stealing – Jane's Addiction
17. Bohemian Like You – Dandy Warhols
19. Hot Chilli Woman – Noiseworks
20. Better – Screaming Jets
23. She's Electric – Oasis
25. I Like Your Old Stuff Better Than Your New Stuff – Regurgitator