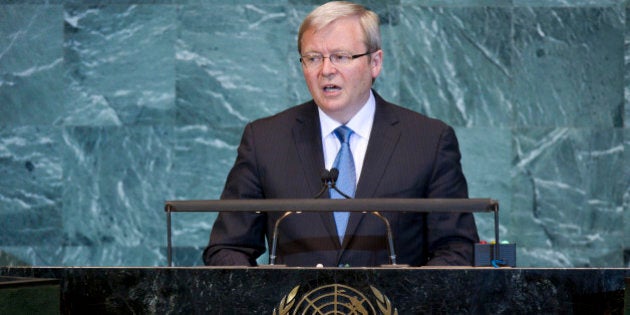 Kevin Rudd has been conducting a campaign from the shadows to become the next secretary-general of the United Nations, but the candidacy of a more experienced choice from across the Tasman may have scuppered his push before it was even formally announced -- former New Zealand prime minister Helen Clark.
Reports have claimed the former Australian Prime Minister has been quietly laying the groundwork since at least a year ago to replace current secretary-general Ban Ki-moon. However, it was just last weekend that foreign minister Julie Bishop revealed she was aware of Rudd meeting with world leaders and diplomatic heavyweights to lay his case for election to the world's top diplomatic post.
"It seems that Mr Rudd has visited a number of people and expressed an interest," Bishop said in Washington.
While Rudd has quietly been building a clutch of supporters, collecting international diplomatic and academic postings, and getting himself published in influential publications, his chances of ascending to secretary-general when Ban's appointment finishes at the end of 2016. Under an informal United Nations rotation system, it is seen to be the "turn" of Eastern Europe to have a candidate at the head of the international body, and the push is on for a woman to take the job.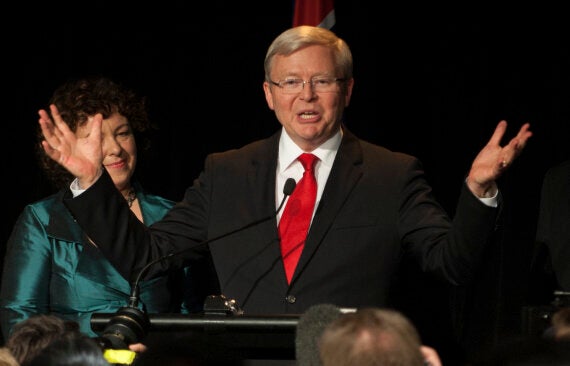 A number of highly qualified female candidates from eastern Europe are in the running, but reports claim Rudd is banking on the field to be spread thin between UNESCO director general Irina Bokova (Bulgaria), Croatian foreign minister, Vesna Pusic, former Moldovan deputy prime minister Natalia Gherman, and former Slovenian president Danilo Türk, according to the Australian Financial Review.
Under such a deadlock, a candidate from the 'Western European and Others' group which includes Australia, paving the way for Rudd to announce himself as a consensus candidate.
Unluckily for Rudd, a far more qualified female candidate from the group announced her candidacy on Tuesday. Helen Clark served as PM of New Zealand from 1999 to 2008. Since 2009, she has been administrator of the United Nations Development Programme, considered to be the the third-highest position inside the U.N.
"We New Zealanders have developed our own way of getting along with one another and getting things done. The tradition of being tolerant, pragmatic and fair is a central part of who we are and I believe I would bring these attributes to the position of Secretary-General," Clark said in a statement.
Clark is a popular, well-regarded and highly influential member of the United Nations system, arguably placing her above Rudd in the pecking order of the Western Europe and Others group. Her gender would also likely win her points in any voting.
Rudd has not yet formally announced his candidacy, and has continually waved away questions about his possible United Nations aspirations. While Clark's candidacy does not totally scupper Rudd's chances, it does put a cloud over his odds. Rudd marked the news by sending congratulations to Clark on Twitter.
And Rudd certainly does not have a supporter in Turnbull Government minister Peter Dutton, saying the former Labor PM's bid must be "driving people crazy".
"No world leader is safe –- when 'Kevin Rudd' comes up on their caller ID they must grit their teeth and say 'please not again'," Mr Dutton told News Corp Australia.
"Kevin, mate, cobber please stop driving these people crazy -– do what other people do in retirement and play golf or buy a caravan."