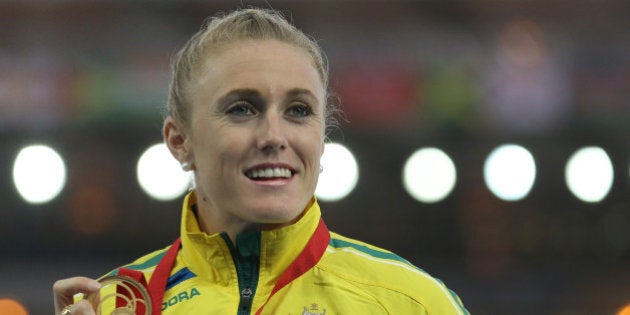 Eight years ago, a rising hurdler, who was then called Sally McLellan, surprised everybody except herself by winning silver in the 100m hurdles in Beijing.
"Oh my goooohhhd… you've got to be kidding me right? Is this real? I don't know what to say. Did you see me?" she gasped immediately afterwards in an interview with Channel Seven's Pat Welsh.
There are actual cadets who've gone to actual space who weren't half as space cadettish as Sally was in that moment.
That's not in any way to belittle Sally or make fun of her. The interview was raw, hilarious, moving, real and a hundred other adjectives -- all of them positive. If you've never seen it, or if you have and you need a refresher, stop and watch it now before reading on. That's an order.
Sally is 29 these days -- a little older, a whole lot wiser, considerably more battle scarred, and as we all know, a gold medalist from the London Olympics.
But as she looks ahead to Rio, how does she feel about that interview? We've always wondered whether it makes her cringe or makes her proud to look back at that intoxicating mix of shock and sheer elation. So we asked her. And we liked what she said.
We think you will too. Here's our exchange:
Ant: Before coming out here today I watched the old interview with you and Pat Welsh. When you look back at that now, do you cringe?
Ant: I'm glad you don't. But what do you feel when you watch it?
Sally: I feel excitement, I feel happiness, I feel joy, it was an amazing time for me. I think I was the only one who really believed I could get a medal, but being able to realise it at the same time was something crazy, it was out of this world, it was so surreal, and I think after all that hard work you just let your emotions out without realising it. It's like anything you do in life whether you're a journalist or whatever work you're in and you do something that is so amazing that you've been working so hard for, you let your emotions out, you celebrate. Who doesn't celebrate?
Ant: Well I think it was the most awesome thing I've ever seen. It's great to hear you love it too.
So there you have it. Sally is a more measured, seasoned media performer these days, but seasoning is over-rated. Unless of course you're in a kitchen.
Meanwhile Pearson is recovering faster than originally hoped from injury and could now race as soon as late May after it was earlier feared she'd not be able to compete until a month before the Rio Olympics in August.
Here's what happened to her in 2015. Ouch.
That injury caused her to miss the 2015 world championships. Her Rio title defence has been a great big question mark since then. She has also been battling an Achilles injury, but Pearson was upbeat on Monday about her recovery.
"Everything's going really well, I'll step training up dramatically over the next few weeks and I'm looking forward to it.
The Age reports that Pearson will use a new starting technique because the damage done to her wrist has cost her strength and power out of the blocks. She believes a slight change to technique will mean she loses nothing in speed.
Pearson will be the Australian Athletics team captain in Rio. Thirty-five team members were announced on Sunday night, with further selections to come in a team that is expected to number 50 by the July 12 cut off.