AFL
Nice try, mate. Carlton's Blaine Boekhorst has played just 13 games in a career which has thus far slipped under the radar of all but diehard fans. But he's the talk of footy this week after getting away with a beautiful dive on the weekend.
Remember Matt Mitcham's unforgettable sixth dive in Beijing to clinch the gold medal? Had nothing on this. In the match against the Swans on the weekend, Boekhorst pulled off this magnificent belly flop.
AFL must act on staging such as this, writes @Robbo_heraldsun, https://t.co/gzd7p0iyVu pic.twitter.com/4l15zkGzAe

— The Advertiser Sport (@TheTiserSport) April 5, 2016
Here's a still of the moment he was lightly tackled around the chest, but pretended it was his neck, then fell to the ground as though he'd just run into an invisible Hills Hoist.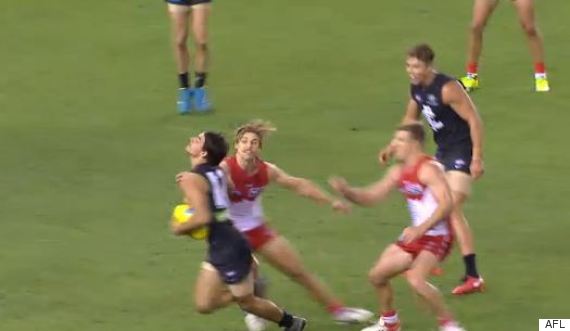 Here's another angle.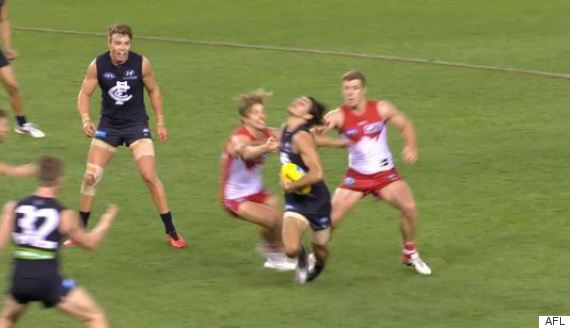 As you'd expect, the The Carlton Football Club put a straight spin on the incident.
.@bboekhorst12 is collected high and converts the free. CARL 7.10.52 SYD 17.8.110 #BoundByBlue #AFLBluesSwans

— Carlton FC (@CarltonFC) April 3, 2016
But fans and fellow players are not so easily fooled.
The AFL has said plenty of times in recent years that it aims to crack down on staging. There are provisions to issue penalties through the tribunal, yet inexplicably, there was nothing in the match report about the incident, which means Boekhorst is free to play next week.
Some of the code's biggest names appeared on Fox Sports overnight to discuss the issue. Triple-premiership winner Jordan Lewis of Hawthorn, and Richmond forward Jack Riewoldt, both admitted to staging in the past, and both also said rules must be toughened further.
Meanwhile, remember how people used to claim they booed Adam Goodes because he staged for free kicks -- and not because they felt intimidated by a proud Indigenous man? Betcha Blaine Boekhorst doesn't get booed next weekend. Just a thought.