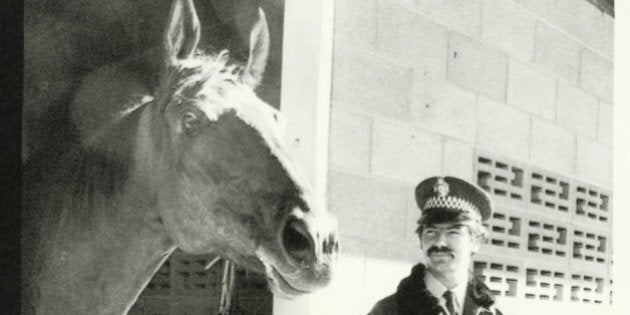 Just when you thought the Fine Cotton scandal had nothing left to give. Thirty-two years after the infamous moment in Australian racing history, when a horse was dyed to conduct a switcharoo on the track, one of the architects of the scam has been wrapped up in the Panama Papers leak.
John Patrick Gillespie is one of hundreds of Australians named as a client of Panamanian law firm Mossack Fonseca, which handles the "grey areas" of offshore financing.
But back to the horse -- his name was Bold Personality and in 1984, he was painted to look like another horse, Fine Cotton, so they rig a race. Bold Personality, doused in hair dye, won the race a little too convincingly and bookmakers were immediately surprised at the confident bets placed on this outside-chance of a horse.
Unbeknownst to the sweaty horse, he wandered past the crowd -- dripping hair dye down his legs, to the shouts of "ring in!".
An inquiry followed and Gillespie was one of six people banned from Queensland Turf Club for life, including bookmaker Robbie Waterhouse.
Now Gillespie, who has had a colourful career, including claiming to own a Monet which once belonged to the Shah of Iran, is back in the public eye for his apparent link to the murky world of offshore banking.
The world's largest leak of data from the Panamanian firm has been disseminated via more than 100 journalists around the world including the team at ABC's Four Corners in Australia.
Not only is Wilson Security itself -- which earned more than $400 million in government contracts -- embroiled in the controversial Panama Papers; the papers have also linked the security company back to the Kwok brothers, who have covertly been acting as directors of the company.
The Kwok brothers were charged in one of the biggest bribery cases in Hong Kong's history in 2014. Both brothers resigned from Wilson Security's holding company held in the British Virgin Islands at the time.
But leaked documents reveal that the companies who direct Wilson Security have both brothers listed as directors on their own books.
Also named in the leak were BHP Billiton and Hong Kong's richest man Li Ka-shing, whose CKI Holdings owns a huge part of the electricity market in Victoria and South Australia.
"The great irony here is that here is a company that effectively provides light for every South Australian household but is not prepared to have the light shone on its tax affairs," Senator Nick Xenophon said on the program.
The ATO has previously taken CKI Holdings to court over unpaid back-taxes and penalties, which were eventually settled for less than one tenth of the amount originally owed, reported Four Corners.
Xenophon is one of many senators urging the government to crackdown on tax evasion, calling for greater transparency and accountability when it comes to tax affairs. But experts and politicians agreed on the program, there will only be success when laws are changed globally to hold big businesses to account.
"The justification that's provided by a lot of these companies is that, well, we're technically operating we believe within the law so that makes it okay -- I think we have to call that for what it is, and that's bulls***," NSW Labor Senator Sam Dastyari said on the program.
"The reality is that they are operating in a very, very grey area of the law. This isn't a victimless act. Every dollar that's minimised is a dollar that's not going to a school.. and yet these companies are getting away with it, and we're letting them get away with it."