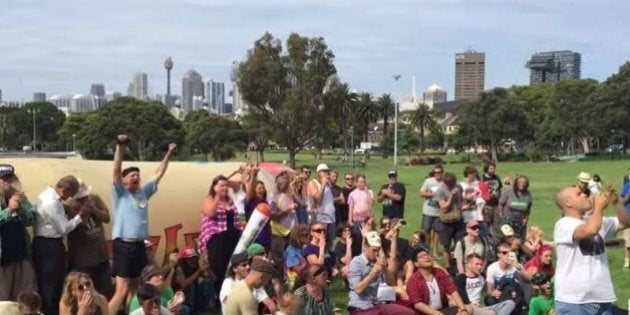 The Free Cannabis organisation -- which describes itself as "committed to realising full scale legalisation, regulation and social acceptance of the cultivation, sale and use of cannabis" -- has scheduled public events in Sydney on Saturday and the Gold Coast on June 18. While the event information does not explicitly mention smoking marijuana, the organisers tell participants to bring their "greenery" for a "a peaceful smoke" as part of a "peaceful act of mass disobedience @ 4:20pm".
Organisers said a similar event held by the group in January was "the first public group smoking of cannabis in Sydney for decades." At that event, dozens of people were filmed lighting cigarettes in a park as police watched on. Two men were arrested, including organiser Chris Hindi and a man claiming to suffer from terminal cancer.
"There are up to 2 million people in Australia who use cannabis regularly so we believe there is no reason to feel ashamed about it. We ask that everybody who has had enough of the 'War on Drugs' to come along and show their support," Hindi said in a statement.
A guest speaker at the Sydney event will be Dr Andrew Katelaris. Nicknamed 'Dr Pot,' Katelaris has been a long-time advocate for the medical use of cannabis.
"Cannabis has been widely documented across human history and a plethora of cultures have made use of its healing benefits, something which is coming back into vogue with serious considerations being made as we speak of setting up an Australian medicinal marijuana market. But we need to do more," he said.
A NSW Police spokesperson told The Huffington Post Australia that local police were in contact with the organiser.
"The NSW Police Force recognises and supports the rights of individuals and groups to exercise their rights of free speech and peaceful assembly in a safe environment," the spokesperson said.
"This means we need to balance the rights of citizens to hold peaceful assemblies with other rights, including the safety and security of the community."
The Sydney event will be held on Saturday at Camperdown's Victoria Park from midday. The Gold Coast event, organised by Free Cannabis' Queensland arm, will take place on June 18 at Albert Park.