Fairfax
The long-term working future of up to 1000 steelworkers in South Australia is under threat after the owner of the Whyalla steelworks, Arrium, agreed to be put into voluntary administration by the group's board.
The move comes a week after Arrium suspended trading after its lenders rejected a proposal worth up to $1.3 billion from US investment fund GSO Capital Partners to recapitalise the firm, and from the South Australian Government's plea to banks to not force Arrium's hand into voluntary administration.
Statement from #Arrium after voluntary administrator appointed. Details on #TenNews tonight. pic.twitter.com/z6kexzsdE4

— Ten News Adelaide (@TenNewsADEL) April 7, 2016
Grant Thornton Australia has been appointed as administrator, Arrium said in a statement to the ASX.
"After considering the available alternatives, in the current circumstances it has become clear to the board of Arrium that it has, unfortunately, been left with no option other than to place the relevant companies into voluntary administration in order to protect the interests of stakeholders," Arrium said.
The administrators will assume control of Arrium's day-to-day operations immediately, while working with lenders, staff, suppliers and government to review its business model.
"Voluntary administration provides Arrium and its stakeholders time to develop options that will help preserve long term value and optimise the position of its creditors," said one of the appointed administrators, Paul Billingham.
"Our focus will be to stabilise current trading, maintain business as usual across the group's affected operations, identify ways to restore the performance of key business units and develop an optimal solution that maximises the return to creditors."
Arrium owes banks and other lenders about $2.8 billion, including a billion dollars Australia's big four banks.
It also billion to trade creditors and around $500 million in employee entitlements.
Whyalla -- about 395 kms from Adelaide on the east coast of the Eyre Peninsula -- is known as a "steel city" because of its shipbuilding and steelworks heritage.
It will become Australia's largest "ghost town" if the town's steelworks close down, acting mayor Tom Antonio said.
"If the (steel) plant is closed, you've got to understand we could have the biggest ghost town in Australia,'' he said.
South Australian Treasurer Tom Koutsantonis said he was disappointed in the decision to turn Arrium over to administrators, and said he had spoken to Industry Minister Christopher Pyne and Prime Minister Malcolm Turnbull.
Acting Premier, Treasurer speaking on Arrium administration. @TenNewsADELpic.twitter.com/YhPRouqjHy

— Alan Murrell (@AlanMurrellTEN) April 7, 2016
He said there are 1,000 Arrium employee in Queensland, 3,000 in NSW, a thousand Arrium employees in Victoria and 3,000 or so in SA.
"It's important that there now be a national approach to this," Koutsantonis said.
"This is one of the largest administrators in recent memory in Australia. It is a very dramatic and large one but of course there's been other iconic South Australian companies that have gone into administration and traded out of trouble."
He said there would be no new redundancies at Whyalla, and all employees across the country will be required to report to work as usual, and will be paid as per their usual schedule.
He also criticised the banks, which he said had gotten what they wanted by with Arrium now in the hands of administrators.
"My view has always been if you want to maximise value, maximise their ability to get the money back that they've lent to Arrium the best solution is rather than a break-up of the company or administration is to see the company trade out of trouble," he said.
"And the banks knew that the Commonwealth and state governments were prepared to use their balance sheets to try to assist Arrium but they were insistent on putting this company into a voluntary ad, many."
Federal industry Minister Christopher Pyne said in a statement the State Government will have a key role to play in ensuring measures are in place to support any workers adversely impacted.
"While we are advised by the administrators that it remains business as usual, the Federal Government stands ready to assist the workers of Whyalla," he said.
"The Government, through (employment service) jobactive, already has a range of support services available for workers who have recently lost their jobs from Arrium. Any additional assistance would build on these existing employment services."
"The Australian steel industry is facing substantial challenges primarily caused by the significant oversupply of steel. The Australian steel industry is not alone in facing these challenges."
The Federal Government had implemented significant policy reforms to support Australia's steel industry, Pyne said.
"Despite this work by both the State and Federal Government it is clear that the issues being experienced at Arrium are not able to be addressed with further regulatory interventions by government."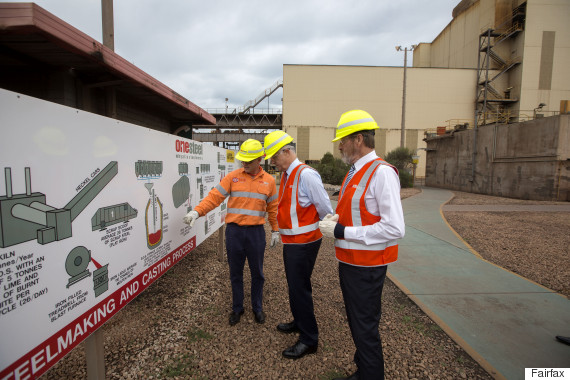 Prime Minister Malcolm Turnbull visits the Whyalla Steelworks on March 9
Labor Industry Spokesman Kim Carr said he believed Arrium can trade it's way out of it's difficulties.
"If the right policy settings are put in place," Carr said.
"Arrium is too big to fail.
"It doesn't mean it does not require substantive changes but there is a national responsibility by Government to show leadership, to work with the state governments, to work with the companies, to work with the creditors to secure the future of steel making in this country."