A teaser trailer for the actual trailer of the upcoming Start Wars anthology film Rogue One has just dropped and it contains some hectic spoilers.
The upcoming space opera -- which is set in the weeks before Star Wars A New Hope and stars Felicity Jones,
Diego Luna and Australia's Ben Mendelsohn -- isn't expected to hit our screens until mid December, and the first full length trailer is expected to land from a galaxy far, far away on Friday.
The film centres on a group of rebels on a mission to steal the plans for the Death Star, the Empire's galactic super weapon which is eventually destroyed by Luke, Han and Leia.
This trailer of the trailer will no doubt keep fans guessing for hours about the upcoming trailer before we can all start safely guessing about the actual film.
Tune in to @GMA tomorrow for the debut of the brand new teaser trailer for ROGUE ONE: A STAR WARS STORY. #RogueOnehttps://t.co/7YRmkk7rvW

— Star Wars (@starwars) April 6, 2016
So strap in as we take you through a blow by blow blow, frame by frame journey through the most blistering three seconds of your life.
**WARNING: Trailer Spoilers Below**
SUSPENSFUL INTRO
The trailer starts with a noisy title card that may hint at some kind of space battle.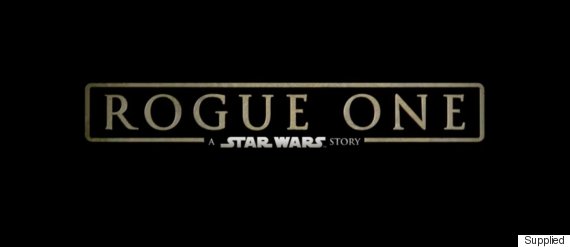 MYSTERIOUS, PLEATHER CLAD STORMTROOPERS
Then the sounds stop and there's this dude, who looks left to right, and then fades ominously to black.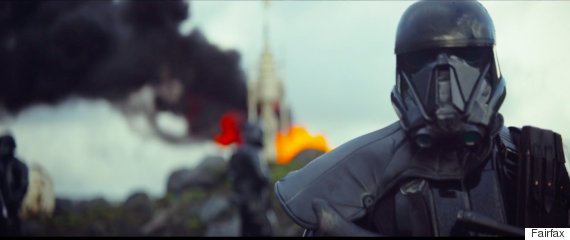 "'Join the Empire,' they said. 'See the galaxy, they said.'"
MYSTERIOUS-ER CHARACTERS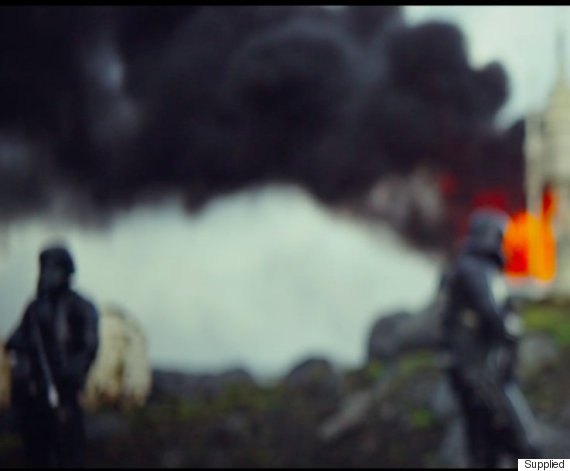 We don't know yet who they are and while they may look like dark stormtroopers, be rest assured that someone, somewhere is making an argument that one of the these two is the evil Supreme Leader Snoke from the Force Awakens.
So what does it all mean?
Well for Star Wars fans, it basically means this:
When you hear there's a Rogue One teaser trailer coming out tomorrow pic.twitter.com/g3BBWrmZkq

— Darth Vader (@DepressedDarth) April 6, 2016
ROGUE ONE TEASER TOMORROW pic.twitter.com/qVDP13R8P8

— leia skywalker (@tolkienianjedi) April 6, 2016
What the teaser trailer for the teaser trailer for Rogue One tells us about the movie https://t.co/fciULc8Hsn pic.twitter.com/Usbh0lgXRA

— The Verge (@verge) April 7, 2016
After the #RogueOne trailer pic.twitter.com/BH4cz7NiyO

— Ben San Tekka (@BN2187) April 7, 2016
Judging from the flaming building in the background and the scary storm trooper, yet another planet has been driven under the heel of the Empire's boot.
Fans will no doubt be keeping an eye out for anything that hints at an appearance from Darth Vader in the upcoming movie, with the Dark Lord of the Sith long rumoured to make an appearance.
Two more spin offs are expected for the series -- one based on a young Han Solo and the other on bounty hunter Boba Fett.