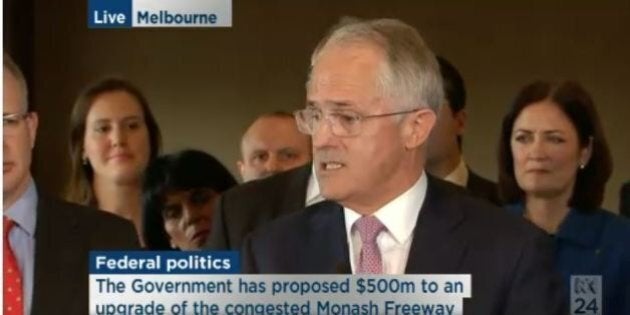 PM Malcolm Turnbull was in Melbourne on Friday morning for a major infrastructure announcement, spruiking $1.5 billion for Victorian roads and rail.
"This is a great investment in the future of Victoria, in the future of Melbourne, in the jobs and the economy of the 21st century," Turnbull said.
But nobody could take their eyes off the massive #squad he had assembled behind him. At press conferences or announcements, it's standard policy for politicians to gather a few allies and colleagues behind them to nod and smile approvingly and laugh at their jokes, but this was a pretty extraordinary, almost ludicrously large assembly.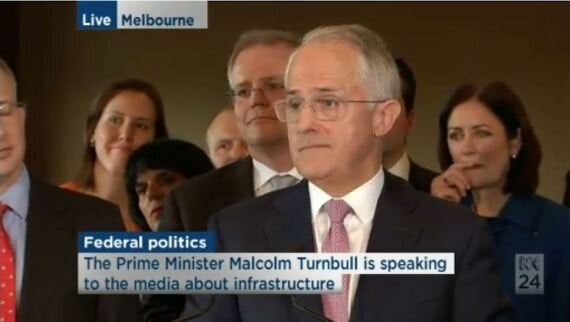 "I'm here today with the Treasurer, Scott Morrison, the Minister for Environment, Greg Hunt, the Minister for Major Projects, Paul Fletcher, the assistant Treasurer, Kelly O'Dwyer, the Minister for Veterans' Affairs and Defence Materiel, Dan Tehan, Senator Scott Ryan, Minister for Vocational Education, and Alan Tudge, the Minister for Human Services," Turnbull said.
"I'm also here with Sarah Henderson, the member for Corangamite, Jason Wood, member for La Trobe, Michael Sukar, member for Deakin, Helen Kroger, our candidate in Bruce, Julia Banks, our candidate in Chisholm and James Mathias, our candidate in Holt."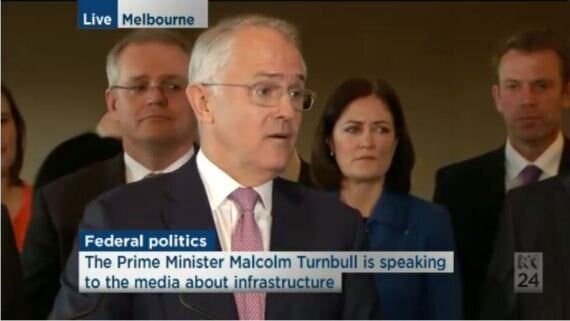 That's 13 -- THIRTEEN -- people assembled behind the PM to smile and laugh and nod. That squad could have been even larger, with Turnbull apologising for Darren Chester, member for Gippsland and the Minister for Infrastructure and Transport, not being able to make it.
The camera of ABC 24 had to keep panning back and forth to capture the entire group, with pollies standing four rows deep behind the PM. A wide angle shot managed to get most of them in frame.
The upgrades to the Monash Highway are being spruiked as "the centrepiece of the Turnbull Government's Victorian infrastructure package." The rest of the package includes $350 million for upgrading the Western Ring Road, $220 million of upgrades to the Murray Basin Freight Rail, a $75 million urban congestion package, $10 million for Melbourne metro planning, and a $345 million rural and regional roads package.
But for many online, the announcement was overshadowed by the massive contingent of pollies.