Harry How via Getty Images
Oh, dear. Oh deary, deary, dear. That was beyond terrible. That was a whole other realm of ineptitude and hopelessness. Did that really happen? Did Ernie Els really take seven putts on the first hole at The Masters?
If you're actually into golf, here's the first round in two paragraphs. Last year's runaway winner Jordan Spieth shot a sizzling 66 and is six under. He leads. Australia's Jason Day was -5 after 14 holes but finished with an even par 72 after a horror three hole stretch late in his round. The four other Aussies are over par.
"It can happen to anyone, I'm not too disappointed," Day said of his late fade. "Obviously I'm frustrated but I felt I played well for the most part."
"Even though I gave up five shots in three holes, I'm only six back now and I know I can catch up if I play the same [as earlier in the round]."
OK, now for the bit you'll love if you're not into golf but you love watching professional sportsmen be terrible at stuff they're normally good at.
Ernie Els 7 putted the first hole, it's excruciating to watch pic.twitter.com/0SJIyncF9k

— The Cauldron (@TheCauldron) April 7, 2016
Now, that was no ordinary golfer. That was former world number one Ernie Els, who has won four Majors and twice finished runner-up at this tournament. All those putts meant he notched a 10, which was the worst score ever recorded on Augusta National's first first hole. Here's his scorecard.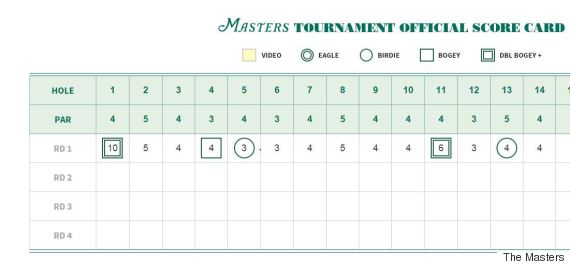 It looks like it, but no, this is not your scorecard from last Saturday.
Naturally everyone started saying stuff like this.
Ernie Els takes a 10 at the first hole of @TheMasters#Masters2016#ErnieEls#Masterspic.twitter.com/VDM3MCC0Xf

— HIODIRECT (@hiodirect) April 7, 2016
And this, which is funny if you've seen Happy Gilmore and understand that Els' nickname is "The Big Easy", which is a particularly clever nickname referencing both his languid golf swing and the first letter of his given name and surname.
The irony: @TheBig_Easy's putting game on that first hole at #TheMasters... https://t.co/SKtOlMOdpE#ironypic.twitter.com/eUSVEH6m53

— Brendan Casey (@BrendoCasey) April 7, 2016
Anyway, Ernie Els had a shocker while Jason Day had an up-and-down sort of day. Hope yours is better.