Twitter
Billionaire politician Clive Palmer is set to be the focus of a special Four Corners investigation into the Queensland Nickel company's woes, and he's pretty unhappy about it.
Palmer's involvement with the company -- which operated the Palmer Nickel and Cobalt Refinery at Yabulu, north of Townsville -- will come under the microscope on Monday night, in the wake of the Queensland Nickel company being placed into voluntary administration. The 237 workers who were sacked from the refinery are now fighting for benefits.
Four Corners, the ABC current affairs program, published a story on Monday morning outlining the claims their Monday night television report would detail; chiefly, that Palmer "was the final approver for millions of dollars of spending" at the refinery. Four Corners claims Palmer was heavily involved in financial decisions when he was not listed as a director of the company, and approved many large financial commitments through an email address with a fake name.
Palmer spent much of the weekend energetically denying the upcoming report.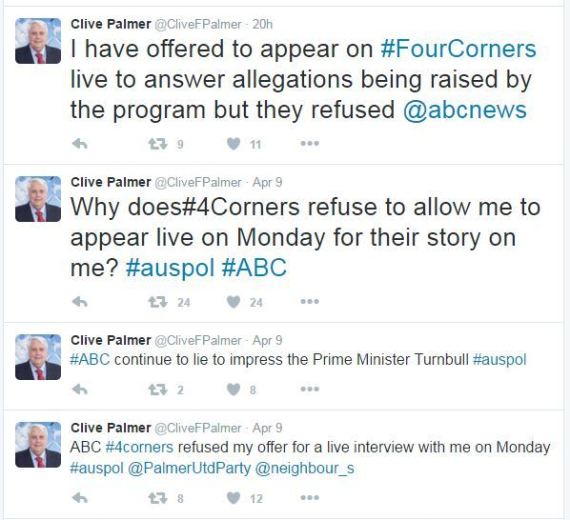 Since Saturday, Palmer has posted nine tweets, several Facebook updates and a lengthy media release denying the claims made by Four Corners, claiming he had offered to appear on the program and that the ABC "continue to lie to impress the Prime Minister Turnbull".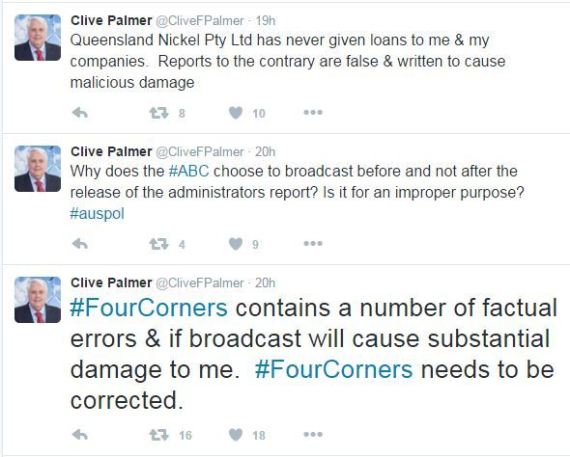 Sally Neighbour, executive producer of Four Corners, has shot back at Palmer's claims by saying the program offered him several chances to comment, but that it never conducts live interviews.
4Corners was very keen to interview you @CliveFPalmer@PalmerUtdParty but as you know we don't do live IVs. #4corners#Palmer#auspol

— Sally Neighbour (@neighbour_s) April 9, 2016
More to the point, @CliveFPalmer, why won't you answer the questions we asked you? #4Corners#Palmer#auspol

— Sally Neighbour (@neighbour_s) April 9, 2016
Neighbour later shared this video, combining clips of two ABC interviews that Palmer famously walked out on while live on air.
While we're on the subject.. here's a couple of @CliveFPalmer iv highlights from the vault #4Corners#auspol#Palmerhttps://t.co/9KeY9bOrx7

— Sally Neighbour (@neighbour_s) April 11, 2016
On Monday, Palmer tweeted that he was sending a letter to ABC managing director Mark Scott, and shared a Change.org petition titled "ABC Should give Clive Palmer a Fair Go - Fair Reporting".
Sent letter to Mark Scott @ABC today re four corners episode. #auspolpic.twitter.com/ueE9Px45Es

— Clive Palmer (@CliveFPalmer) April 11, 2016
Four Corners airs on ABC at 8.30pm on Monday. See a preview here.