Harry How via Getty Images
The son of a vicar and a mathematician has won The Masters. And it was seemingly an act of divine intervention and an accident of numbers that got him to Augusta.
Danny Willett won with a score of -5, upstaging local hero Jordan Spieth after the defending champion quadrupled-bogeyed the 12th hole after looking just about unbeatable.
Willett is a 28-year-old Yorkshireman who was world number 12 coming into this week's event. Despite his relatively high standing in the game, he finished tied for 38th in his only appearance at The Masters last year and wasn't expected to do much this week.
In fact he wasn't expecting to be here at all.
"I'm looking forward to Augusta if I get to go play," Willett said in March after his victory in the Dubai Desert Classic. "Nic is due that week. So it all depends on how our little man is faring. If he fancies coming out early on, it would be great, but if not, I won't be playing."
"Nic" is wife Nicole. And the "little man" is Zachariah James Willett, who was due on April 10, the Sunday of The Masters' final round, but very sensibly chose to pop out on March 30. Thus did Zachariah's dad spend April 10 not in a labour ward, but labouring around Augusta National.
That's not entirely accurate because while others laboured, Willett calmly shot a 5-under-par round of 67, which equalled the low round of a very, very tough week when the greens were wickedly fast and difficult.
After finishing his round, Willett still had three agonising holes to wait to see if Spieth could recover and overtake him. So he spent the time doing what all young dads do. He FaceTimed his wife.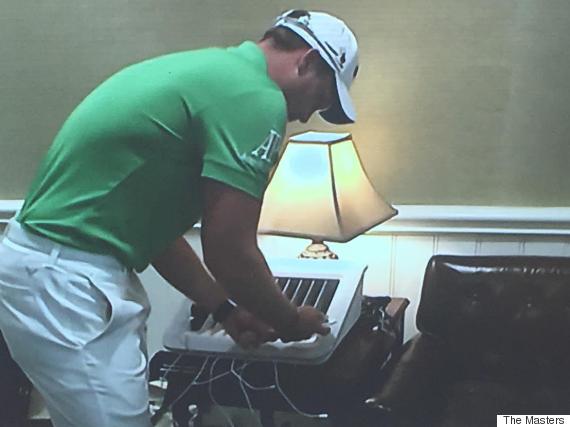 Honey, I might be a little late for dinner tonight.
Willett had nothing to worry about. Spieth was mentally and physically spent and eventually finished three shots back in a tie for second at -2 .
"It's tough, it's really tough. I just put a bad swing on it right at the wrong time. It was a very tough 30 minutes for me that hopefully I never experience again," Spieth said.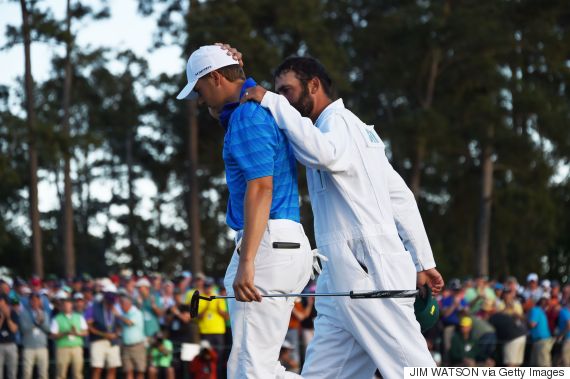 You'll get over it, mate. Might take a while but trust me, you will.
Meanwhile Willett had this priceless look of utter disbelief look on his face. "It's been crazy, you can't really describe the emotions you're feeling," he said. And he couldn't. He literally couldn't describe it. "Surreal" was the best he got. He is just the second Brit to win The Masters. The previous was Nick Faldo, whose third and last green jacket came in 1996 at the expense of Greg Norman.
The best line went to one of the commentators who said "I guess you knew April 10 was the due date, you just didn't know for what".
Meanwhile the Aussies did a whole bunch of not much. Jason Day had one of those weeks when the putts just wouldn't drop. That said, he did pretty well to finish at +1 in a tie for 10th.
The highlight of the final round? This. As we wrote in our regular weekend sports wrap, this wasn't golf, it was "snolf", as in snooker golf.
Ricochet ace! @Louis57TM records third hole-in-one on No.16 today. https://t.co/OR0sxN96rp

— Golf Channel (@GolfChannel) April 10, 2016