JGI/Tom Grill via Getty Images
So your partner really likes football. As in they REALLY like football. There are some things you need to know. Mostly, that footy for the true fanatic is something that is taken seriously. Very seriously. Which means a whole heap of time invested in watching men run around in little shorts, which, well, has its perks. Not sure if you can make it through footy season? We've got you.
1. Know when the season is coming
It might be the gleam in their eye, or reluctance to make plans on a Thursday/Friday/Saturday night (come on, seriously?), but there will be a change in the air and you will know that footy season has arrived. Mark that diary so you can be prepared.
2. Understand the gist of what's going on
Unlike, say rocket science or making a soufflé, the basic rules of the various football codes aren't that difficult. Some light Googling and suddenly the mechanics of a try, a scrum (fun word, huh?) and point scoring all make sense, and all of a sudden watching a match -- because your partner wants you to -- becomes kind of fun.
3. Learn some of the lingo
While you'd never do something solely to impress someone else, there's nothing quite like throwing around a few choice pieces of footy lingo and basking in your partner's reaction. Here are some suggestions to use at your disposal: "great cut out pass!" "clearly offside!" "obstruction!" and the very satisfying, "BAAAALLLLLLLLL!"
4. Have a go to plan for when their team loses
Ah football. A sport that brings literally millions of adults to tears, and also makes them pat each other on the bum an awful lot. It evokes ecstasy and agony. And OH the agony when your partner's team loses. The crucial thing here is to acknowledge the loss. There's little point saying, "it's just a game." Because to the true fan it's more than that. Your sympathy should be remembered – and rewarded – in turn when you are overly emotionally invested in Game of Thrones.
5. It's all about compromise
Frankly, there's going to have to be some give and take here. So they're obsessed with AFL but very slightly less invested in the NRL? At least some NRL game time slots become Amy Schumer o'clock in your house. And if you ever have a clash? Well, that calls for a free pass to the pub and a solo night in for you (hello, three hour bath and entire pizza). Win, win!
6. Go to a game, it might surprise you
Maybe it's the meat pie with sauce, or the sight of a stadium waving their scarves furiously, or collectively screaming at the umpire/referee, but it's easy to get caught up in the spirit of going to the footy. You might enjoy yourself far more than you expected to.
7. Pick a team
There's nothing like a little healthy competition. Picking a team -- ideally a team your partner doesn't support, because you are an independent thinker -- adds a thrill to footy season. Plus, if your team wins, you can gloat in an unseemly manner while prancing around in the lounge room wearing your team colours, #braggingrights.
8. Enjoy your independence
A healthy relationship means that you're both perfectly OK to do your own thing without feeling insecure or resentful. Don't think "oh no, footy season is here again!". Instead, think "hurrah, BBC bonnet drama season/the latest Marvel Comics movie is here!"
9. Reflect on the wisdom of Coach Taylor
The TV show Friday Night Lights wasn't really about high school football, it was about life, and Coach Taylor's motivational phrase, "clear eyes, full hearts, can't lose," is one everyone should live by. In footy season and beyond.
10. Or, just take some time out and think of Shaun Hampson
Don't think you can't get through footy season? Here is AFL's very own Shaun Hampson. You're welcome.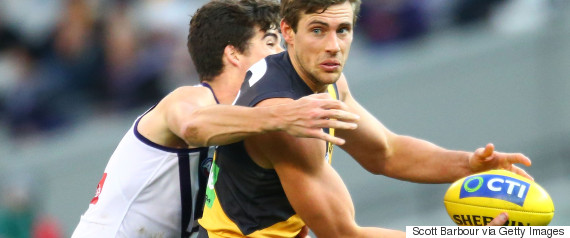 It isn't just smart women who know how to make the most of footy season! Whether it's mucking in around the house or making an effort with your other half's friends, UBET are helping all punters rack up the Browny Points, ensuring you get a pass to catch all your favourite matches.