Damir Sagolj / Reuters
The NSW Greens are calling for an end to a legal loophole they say allows individuals to own hundreds of guns.
Data compiled by Greens MP David Shoebridge through freedom of Information requests shows there are 850,634 registered firearms in NSW, while more than 100 postcodes have more than 2,400 guns. There are 9 postcodes that contain more than 10,000 guns.
It also shows the size of the largest 100 private arsenals owned by any one person in NSW -- between 71 and 322 guns each -- as of December 2015, a figure the Greens say excludes guns owned by firearm dealers and collectors.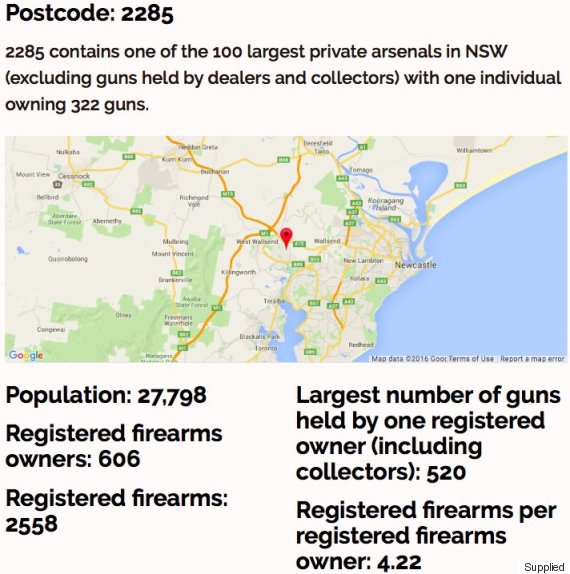 The number of licensed firearms in Newcastle
The Greens want the loophole in the firearms law closed, so that once someone owns at least five guns they have to establish a "separate and extraordinary reason" for owning each additional gun.
"The Greens accept that there are people in the community who have a genuine reason to own a gun. Farmers on rural properties often require firearms for euthanizing [sic] injured stock or controlling wild invasive animals," the website reads.
"Target shooting at a registered gun club is also a long-recognised and legitimate sport. Members of a shooting club and farmers may reasonably be able to establish a need for a number of guns to address their different needs.
"However it is impossible to see how any one citizen can establish a "genuine" or "good reason" to have dozens, or even hundreds of guns."
The data shows someone in Newcastle owns 322 guns, while another licensed firearm owner in Moonbi, near Tamworth, owns 313.
There are 192 registered firearms in the inner Sydney suburb of Newtown, and one registered owner has 19 of them.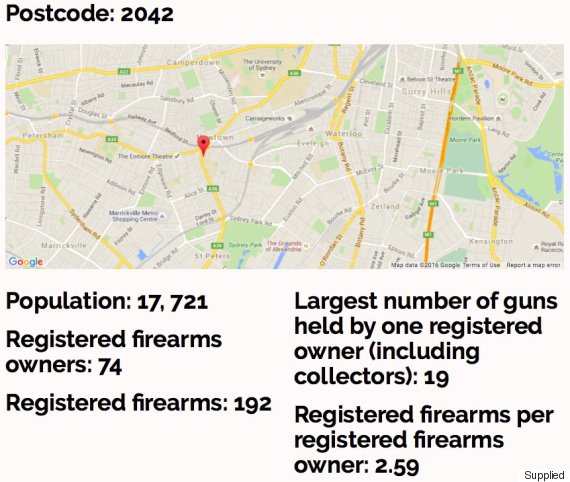 The number of registered firearms in the inner Sydney suburb of Newtown, according to the toomanyguns website.
At the smaller end of the scale, someone in the Bardwell Park/Bexley area of Sydney owns 71 firearms.
NSW Shooters and Fishers Party MLC Robert Brown said the website was an attempt to scare people.
"All licensed firearms owners in NSW, again whether they're farmers, are amongst a group of elite persons. Each and everyone of them carries a little green card in their wallet that says that, according to the NSW government, they are a fit and proper person," Brown said in a video released on his Facebook page.
"And the other thing is where they quote statistics per postcode, in a lot of cases the post code they are quoting as having massive numbers of firearms are where there are large (legal) firearm dealers."
A spokesman for Deputy Premier Troy Grant told Fairfax there were no plans to change regulations around legal gun ownership, and owners have to undergo a range of criminal and suitability checks.
Australia introduced tough gun ownership laws in 1996, days after after gunman Martin Bryant killed 35 people and injured 23 others in Australia's worst ever mass shooting at Port Arthur.
You can check your postcode here.