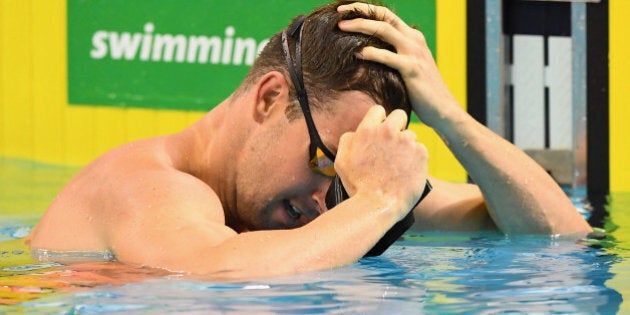 In defeat, James Magnussen was magnanimous, magnificent and magnetising. You couldn't take your eyes off him. For the first time in years, you felt like you really, really liked the guy.
James Magnusssen missed Rio Olympics selection in his signature event, the 100m freestyle, at the Australian Swimming Championships on Monday night. "The Missile" didn't exactly misfire. He just wasn't quite good enough anymore.
Immediately afterwards in the pool, he was gutted. You can't hide that sort of thing. But boy, did he show some world class form in talking to Channel Seven's reporter afterwards -- a point noted by anyone who watched, including seasoned swimming reporters like the Courier Mail's Todd Balym.
"I'm shattered," Magussen said in the interview. "I've done everything I could to get into shape. Those guys just raced a better race tonight. That's how strong Australian swimming is at the moment and I'm going to do my best to contribute to that team."
Swimming first, James second. Compare that classy attitude to 2012, when Magnussen decimated the 100m field at the Australian Swimming Championships en route to London.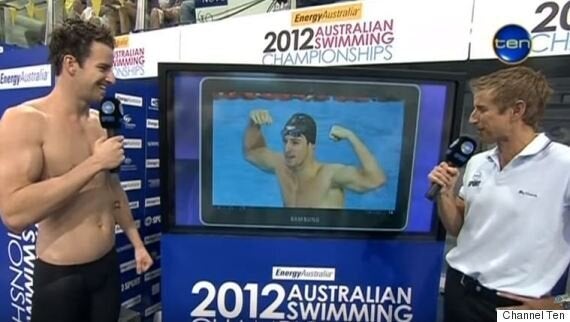 "When I get an opportunity in front of a big crowd like this, why not show it off?", Magnussen said of his winning pose. Which to be frank, was a bit of a cringe.
You could excuse him, though. Magnussen was 100m freestyle world champion in 2011 and again in 2013. With his good looks, two metre frame and global domination of the world's most hotly contested aquatic event, the young man from Port Macquarie was the one swimmer most Australians could name in what was, by our lofty standards, a moderate era.
But Magnussen missed out on London Olympic 100m freestyle gold by just a hundredth of a second. It was half a fingertip that changed everything.
AS FOR THE WINNER... WOW! Cameron McEvoy set the fastest ever 100m freestyle time in a textile swimsuit (non fast-suit) on Monday night. McEvoy, 21, is a Gold Coaster who studies maths and physics. He has a really cool bio at the Griffith Uni website, where it is revealed he wants one day to be the world's best dad. You should also know that McEvoy spent the afternoon before the 100m solving maths problems. As you do. Seventeen-year-old Adelaide local Kyle Chalmers took the second Rio spot in the event.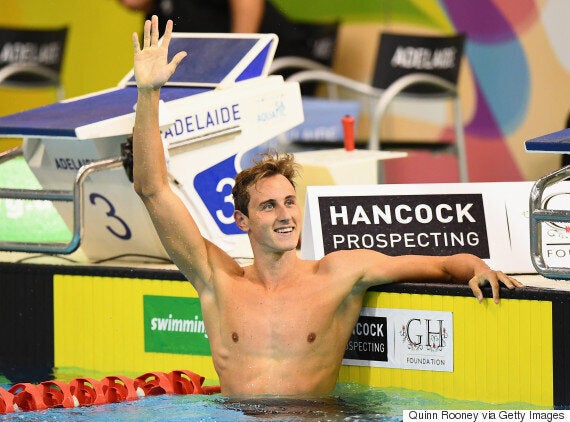 Hi everybody! Hi Cameron.
Magnussen had been one of the "Stilnox six", a group of 4x100m freestyle relay swimmers who experimented with the banned prescription drug at a pre-Olympics training camp in 2012. Magnussen and his buddies went on a bit of a rampage, disturbing teammates who were in preparation.
Was his London loss karma? Did the training camp episode cost him that fraction of a second? Was it just one of those things that happens in an event which is always tight?
Whatever the case, this was one time when silver was as good as last. James Magnussen was 0.01 from Olympic glory but rightly or wrongly, he was seen as a failure. Deep down, you sensed he felt that way too.
But there was always Rio. Rio could be the ultimate redemption story. Except now we know it won't be. Magnussen finished fourth on Monday night. He'd hoped to swim 47-something. His time was 48.68. Here's the race.
To put Monday night's Magnussen's swim in perspective, the winner, Cameron McEvoy, swam a blistering 47.04. The world record is 46.91, and that was set in the era of fast suits. James Magnussen's personal best is 47.10, set at the Australian Swimming Championships pre-London. But that seems a long time ago now.
Magnussen has had major injury problems in the last year or so. He missed most of 2015 with back and shoulder issues and did well to get this far. But what now?
Well, there's the 50m freestyle still to come, which is the only stroke contested at the Olympics over the one-lap distance. It's a bit of a long shot but who knows? And there is the 4x100m freestyle relay. Whether Australia qualifies in this event at all won't be decided until later this year.
For now, Magnussen will have to wait for the giant boarding pass which the Australian Olympic Committee is presenting to all its Rio-qualified athletes. He'll have to make do with his giant heart, which was on show for all to see on Monday night.