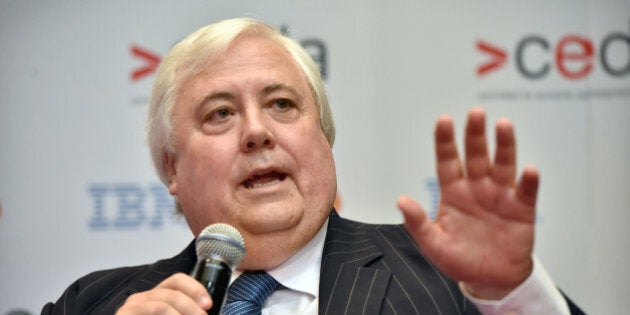 The administrators of Clive Palmer's Queensland Nickel mine have recommended the refinery be liquidated, just hours after a wide-ranging exposé on the billionaire MP aired on the ABC.
FTI Consulting, which was appointed as administrator for the Queensland Nickel company which ran the Yabulu nickel plant, has recommended the company be liquidated due to its financial woes. More than 200 workers were sacked when the company was placed into administration, and with Queensland Nickel owing debts of $100 million, FTI said liquidating the company would net unsecured creditors around 50 cents in the dollar.
FTI also reported that donations from Queensland Nickel to Palmer's political organisation, the Palmer United Party, "caused detriment to Queensland Nickel".
The report recommends liquidating the company, with a creditors meeting next Friday to officially decide the fate of the company.
The Four Corners report claimed Palmer "was the final approver for millions of dollars of spending" at the refinery. Four Corners claims Palmer was heavily involved in financial decisions when he was not listed as a director of the company, and approved many large financial commitments through an email address with a fake name.
If so, Palmer could be criminally liable for any decisions he made while acting as a "shadow director".
"During the course of our appointment, we have carried out investigations into the conduct of various individuals whom may have acted in the capacity of a shadow/de facto director," the FTI report says.
"Our observations indicate Mr Palmer, a former Director of the Company, appears to have acted as a shadow/de facto director of QN at all material times from February 2012 up to the date of our appointment on 18 January 2016."
"It is our view the donations made by Queensland Nickel to Palmer United Party have appropriated assets otherwise available to Queensland Nickel and its creditors for the benefit of a director-related entities, and because of these transactions, caused detriment to Queensland Nickel."
In the aftermath of the report, Palmer made a few appearances on Tuesday morning TV, including one particularly heated discussion on Sunrise.