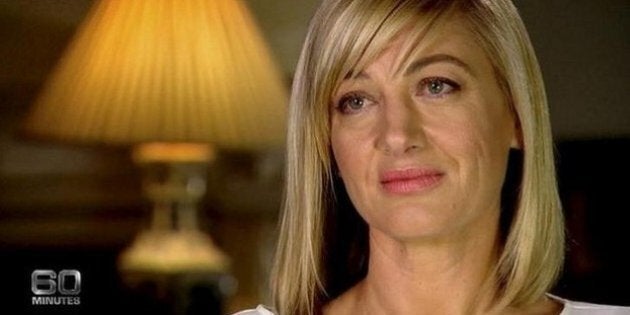 Kidnapping charges have been filed against the 60 Minutes crew detained with a Brisbane mother in Lebanon. They are set to appear individually before a judge on Tuesday (local time).
Nine News reports Tara Brown will face four charges, with one charge related to kidnapping. The three other crew members will also each face four charges.
News of the filed charges comes after the initial hearing in Beirut was postponed on Monday.
The 60 Minutes crew were in Beirut with Brisbane mother Sally Faulkner to film the child recovery operation of her two children after Faulkner claimed her ex-husband, Ali Elamine, never returned the children, aged four and six, from a holiday in Lebanon.
Lebanese authorities arrested the crew and two members from an international child recovery agency on Thursday after an alleged attempt at recovering the children.
On Tuesday a child recovery specialist back in Australia slammed the "dangerous" and "amateurish" operation.
Colin Chapman -- who runs Child Recovery Australia in Queensland -- told ABC Radio the operation to recover the children in broad daylight was not well-planned, and put the two children in potential danger.
"Doing it in a busy street, underneath CCTV cameras … I don't know if you saw the footage but that's horrific what the kids were exposed to," Chapman said.
"They were spear-tackled almost into the back of the car. I'm very critical of it, as you can guess. [It was] very amateurish, very dangerous.
"There's guns everywhere over there. You don't conduct that sort of operation in the Middle East without expecting to get shot."
Chapman claims he was working with Faulkner before 60 Minutes came on board to film -- and allegedly partly fund -- the recovery.
Fairfax Media reports Faulkner texted Chapman after the crew and child recovery agency workers were arrested.
Chapman says Faulkner texted, saying: "Col, I'm in trouble."
They continued to text back and forth discussing alternate escape routes -- including a boat to Cyprus -- while she remained with her children in a safe house. In Faulkner's last text before she was arrested she told Chapman she would call him.
On Monday, before the crew and Faulkner were due to appear at a hearing, a Nine Network spokeswoman told The Huffington Post Australia "everybody is well and well looked after."
"They are in good health and good spirits and no one has been mistreated."